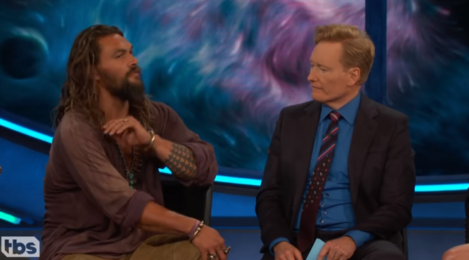 Source: Team Coco/Youtube
AS YOU MIGHT know already, Jason Momoa's a pretty big fan of Guinness. You may also be aware of the fact that he's set to star in the new Aquaman movie, which is set to be released in December.
Last year Guinness combined his two passions by giving him this special handle for his bar tap at home:
Also, check out the Guinness logo on his jacket too.
So it's not just Jason that likes Guinness. It's Aquaman too. When Jason recently sat down with the cast of Aquaman and Conan O'Brien, he told the talk-show host that Aquaman is the first superhero who you could "sit down and have a beer with".
He's a blue-collar man, he was raised by his father, he worked on bikes and trucks and his dad was all-American, I just feel yeah he's definitely someone you can sit down and have a beer with. You can't do that with Superman.
Conan, agreeing that Superman seems a bit dry, replied "Superman's a dick."
Source: Team Coco/Youtube
The pint conversation turned to Guinness, and Conan brought up the fact that Jason Momoa really enjoys a pint. Jason even has two special blends of Guinness that he has made with the company.
So it was only right that Conan and the Aquaman cast had a few cans while watching the trailer for Aquaman.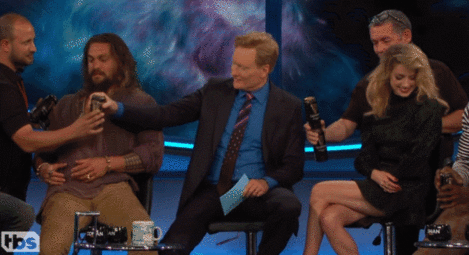 There are definitely worse ways to promote a film.
Source: Team Coco/YouTube
DailyEdge is on Instagram!