JEAN-SHOPPING HAS a reputation for being particularly hellish.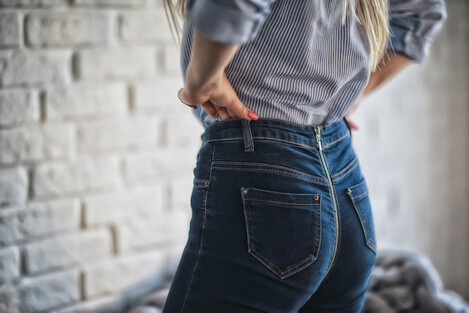 Source: Shutterstock/Kichigin
Indeed, of all the high street missions we embark upon, replenishing our jean collection is considered among the most frustrating.
A day spent wriggling in and out of ill-fitting jeans in a cramped fitting room is enough to convince us that a life devoid of denim is the one for us.
Yet, we always soldier on because we all know the joy of finally happening upon 'the pair' – which we'll wear to death until that last fraying thread signals the need for the next mission.
And so the cycle continues.
We that in mind, DailyEdge.ie chatted with Laura Jordan of Style Savvy, a highly successful style consultant, fashion presenter and personal shopper, who shared her expert insights on the subject, and stressed why shopping for denim should not be done digitally.
Source: Laura Jordan
"I would never ever, ever, ever buy jeans online," she tells us. "It's the one thing I would never buy online unless I already knew the exact style I liked and I was bulk-buying."
You can't judge it online because there are just too many different factors; there's the waist, there's the rise, there's the length. There are too many fits.
But with years of experience to her name, Laura knows all too well just how daunting it is to emerge from behind the laptop and hit the highstreet in order to devote a day to the endeavour.
"Jean shopping should not be lumped in with any other shopping. It's a mission of its own," Laura acknowledged. "It's an absolute beast of a challenge."
It requires segmented shopping where you say 'I'm going to try and tackle this jean situation today'. I think people expect the perfect pair to land on their lap, but you have to put the work in.
But why? Why is it often so difficult?
Well, Laura believes it comes down to two particular factors, explaining: "Women, in particular, struggle because of how jeans are marketed and how they are sold."
"They're typically folded, and there's not a clear labelling of what the difference is between each style in a store. We have Midrise Skinny, Midrise Slim, High Rise, Boyfriend, Mom; what is all that?" Laura laughed.
I think if it was labelled a little easier, it would be less intimidating. I also think when you're trying to choose something from a pile as opposed to from a rail, it can be more difficult.
"The way the marketing happens and the way the product is sold can be really off-putting, and there's the fact that a lot of jeans look very similar," she acknowledged.
"It's only when you try them on that you see the difference in terms of the rise, the cut and the shape," she added.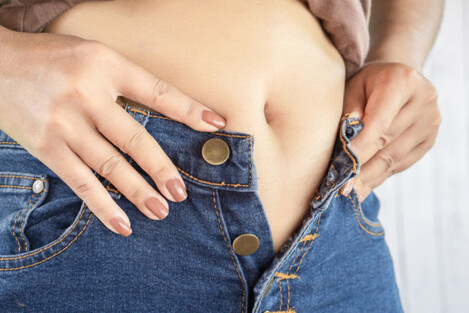 Source: Shutterstock/Doucefleur
OK, so marketing and sales may be out of our control, but what role do we play?
I think we ask too much of jeans. It's like asking too much of a dress, like when we ask a dress to do the job of underwear. Sometimes we ask jeans to do the job of underwear because that's our day equivalent.
So, how do we avoid falling into that trap?
"You need to go into the store, and try on one of each of the different styles; it's almost jeans research as I call it." Laura tells us.
Most women will buy a size too big in their jeans; it's so common. I'm always advising women to size down. For denim shopping, you should be beating yourself into the jeans, you should be in a sweat trying to get them on.
If that visual sounds far from appealing, you're not alone. There is, however, method behind the madness.
Most jeans – not all – but most have such a lycra content now due to the fact that the price of cotton, and therefore denim, has increased because the cotton crop failed – that's the economics of it. Lycra has been used more in terms of supplementing the make up so basically they stretch more and move more.
In other words, you will avoid having to regularly rewash your jeans in order to improve their shape if you do a little pre-purchase sweating to begin with.
With these things in mind, where should you consider heading?
"There are three shops I go to all the time for denim; Marks & Spencer, River Island and Topshop," Laura tells us.
"Personally, I think the Molly jeans in River Island are excellent, but one of the unsung heroes of jeans on the high street is Marks & Spencer," she continued.
Marks & Spencer's super-skinny jeans are excellent. They have a great size range; they go up to at least an 18 if not further, and they're a great price point as well. The Jonis from Topshop are excellent, they come up quite high and are so comfortable. 
If you know a day of jean shopping is on the horizon, and you could do with a few handy hints on how to navigate it, Laura has you sorted. 
Source: Laura Jordan
Be realistic
It's so important is to have a realistic expectation about what a pair of jeans can do for you because I think the marketing around denim has made it look as though a pair of jeans can change your life, and that is not true.
Make a list
List out your shops and try on every type of jean they have in the shop. Don't just go in and pick one. Try all of the different styles that they have. If you're between two sizes, always go down a size!
Have an open mind
Don't decide what you want before you go; you have to have an open mind with jean shopping. Of all things you buy, it is the most important purchase to have an open mind on. It is research time; so it can feel quite disheartening, but it's the only way to find the pair for you.
Decide on your price point
Are you buying high street denim? Luxury denim? Or are you buying midway? If anyone is looking at buying luxury denim, always avoid black. Don't invest in black denim because it fades, no matter how expensive it is. Unless you're happy to dye it over time, I never buy expensive black jeans.
Consider the body part you want to reveal or conceal
For example, I find that a lot of people try to make their bum look smaller, but many people make the mistake of buying jeans with small pockets on the back. However if you look at it proportionally, small pockets make your bum look bigger. 
And remember: "You never know until you put them on."
Ladies, forewarned is forearmed. 
DailyEdge is on Instagram!
.