Source: SIPA USA/PA Images
AFTER THE EVENTS in Charlottesville over the weekend, a lot of action has been taken to identify the people who shamelessly carried Nazi and confederate flags through the streets of Virginia.
The gathering of right-wing groups led to the murder of 32-year-old Heather Heyer and the injuries of 19 other individuals when a terrorist plowed a car through people protesting against white supremacy.
Source: The Herald-Sun/TNS/ABACA
Since then, a Neo-Nazi website that helped to organise the rally in Charlottesville, has been asking their readers to target the funeral of Heyer insisting "they want people on the ground" at the ceremony, which is very concerning.
In the days following the events at Charlottesville, groups have been crowd sourcing information to try and identify marchers from the fascist rally.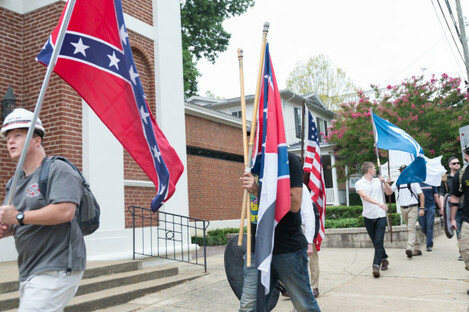 Source: SIPA USA/PA Images
Twitter account @YesYoureRacist has been helping to name individuals who publicly appeared at the rally, were photographed doing Nazi salutes and gave media interviews expressing racist beliefs.
They have found Facebook posts by attendees of the rally insisting that next time they visit Charlottesville they will burn the entire city to the ground.
Source: SIPA USA/PA Images
The exposure of these people his has led to the dismissal of some from their workplaces.
Actress Jennifer Lawrence also took to Facebook to encourage the naming and shaming of Nazis at the rally.
In a post that has been shared almost 10,000 times and garnered 132,000 likes, Jennifer Lawrence urged people to name these people, as allowing them to remain faceless and allowing them to walk away from these aggressive actions consequence-free gives them power.
These are the faces of hate. Look closely and post anyone you find. You can't hide with the internet you pathetic cowards!
Source: Jennifer Lawrence/Facebook
Lawrence has over 16 million followers on Facebook, so a move like this will bring major attention to the identities of these people.
One of the attendees was Peter Tefft, who was publicly disowned by his father this week after he took part in the white supremacist rally in Charlottesville. Peter Tefft is on record sharing this reprehensible quote:
The thing about us fascists is, it's not that we don't believe in freedom of speech. You can say whatever you want. We'll just throw you in an oven.
His father wrote an open letter in response to his sons views where he totally condemned his beliefs. He wrote:
Peter, you will have to shovel our bodies into the oven too. Please son, renounce the hate. Accept and love all.
The entire letter can be read here.
DailyEdge is on Snapchat! Tap the button below to add!