LAST NIGHT THE Irish Beliebers got it into their heads that there was only one thing they wanted – Justin himself to play a gig in Croke Park.
Thus, they did what comes naturally and begged for it via a Twitter hashtag.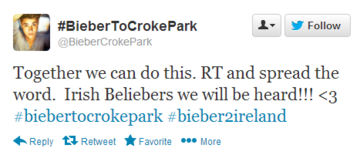 It wasn't long before #biebertocrokepark was trending (Beliebers be tweetin' yo!) and started getting a reaction from people who do not Belieb.
They do not Belieb at all.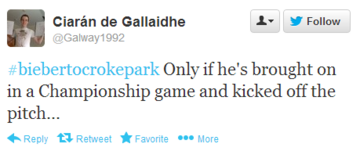 People are always so reasonable when it comes to subjects like Croke Park and Justin Bieber, aren't they?
Some people were more polite.

Others were concerned about the logistics.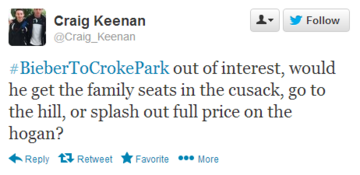 One Tweeter was happy just to imagine the possible outcome of such a visit.
The Beliebers are still tweeting away, hoping their deity will take notice and schedule a gig, but as the date they want him to play is just a month away it's unlikely to happen.
Anyway, shouldn't they be at school?