CANADIAN PRIME MINISTER Justin Trudeau was in the Oval Office last night to meet President Trump.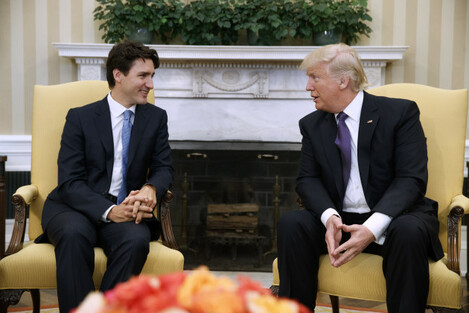 Source: Evan Vucci
Donald's handshakes have been the talk of the town lately, following his 19-second-long Curb Your Enthusiam-esque greeting with the Japanese PM last week.
Just before he went to shake Trudeau's for the cameras yesterday, the photographers caught a moment of apparent hesitation.
And Trudeau's facial expression was perfect
Source: shauna/Twitter
From every angle, it's become a huge meme overnight
Source: Kim Kelly/Twitter
Source: Dan Speerin/Twitter
The jokes have been coming thick and fast
Source: Stephen Colbert/Twitter
Source: Anne T. Donahue/Twitter
Source: Matthew A. Cherry/Twitter
Source: Aidan Browne/Twitter
As Time notes, Trudeau did end up shaking his hand and the video shows he wasn't hesitant at all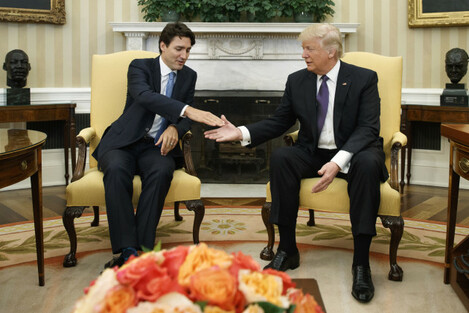 Source: Evan Vucci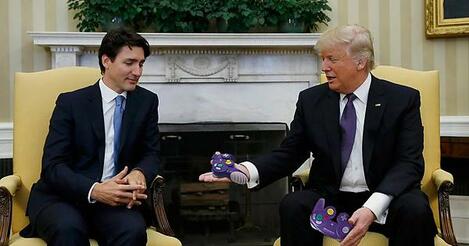 Source: Imgur
"Go on… press it"
Source: Imgur
"Here you go"
Source: Imgur
There was not going to be a repeat of last week's ~incident~
Source: Sarah Churchwell/Twitter
But at least he came bearing Canadian gifts
Source: Lauren Strapagiel/Twitter
Poutine as the new diplomatic tool in these strange, uncertain times.
DailyEdge is on Snapchat! Tap the button below to add!