EVERY WEEKDAY MORNING, the Daily Edge rounds up the best of the day's celebrity dirt – from the top to the very bottom.
#JATIE?: Katie Holmes is putting the burn on ex-husband Tom Cruise. She's now being romantically linked to non-titchy Hollywood hunk Jake Gyllenhaal, who is a full 18 years younger and 4.5 inches taller than  the Cruiser. And has been in way better films recently.
A rep for Katie said the rumours are "not true at all", but according to a 'source', Holmes reckons the pair have "tons in common" and she's been over to his gaff for dinner. (Mail Online, The Sun)
Meanwhile, Tom Cruise plots in his secret headquarters under a volcano.
#KIMYE: Kim Kardashian stands to earn around $10million from the simple act of having a little person growing inside her. Oh, and the baby will be making an appearance on Keeping Up With The Kardashians. Of course it will. The show's producer said:
We look forward to sharing the joy as they prepare for more diapers, more bottle and without a doubt, more fabulous baby wear.
Meanwhile, Kim Kardashian shook hands with a dolphin. (Mirror, Mail Online)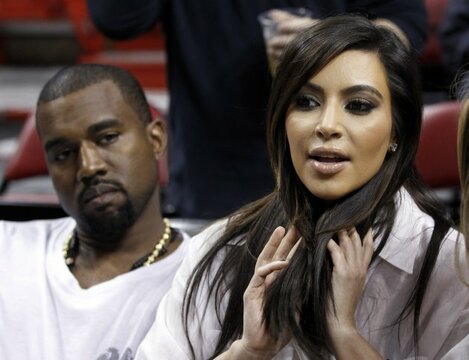 Kim Kardashian, spotting a dolphin she would rather be with. (Alan Diaz/AP)
#TOBILLA: In what is probably the day's most bewildering and terrifying showbiz story, it's emerged that former kids TV presenter Toby Anstis…

is romancing Elvis's ex-wife Priscilla Presley. Who is 27 years older than him, and married Elvis before he was born. They met – for real – while she was playing the Wicked Witch in a local panto. (Mirror)
Do you need a reminder of Priscilla Presley's work? No problem:

YouTube/VideoMashipNetwork
#POOR 'ARRY: Harry Styles may be an international teen superhunk with a celebrity missus, but at heart he's just a poor lost kid. In an ITV documentary about One Direction, he had a good old cry about the abuse they get online. Let it out, Harry. Let it out.

YouTube/zaynarmy
And the rest of the day's dirt…
For more, follow @dailyedge on Twitter and like The Daily Edge on Facebook.