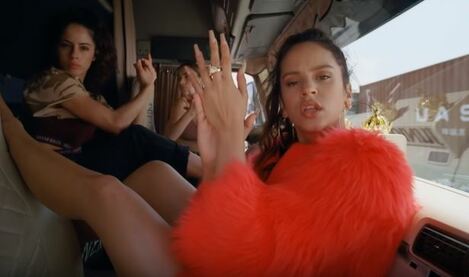 Source: Youtube
WE ALL KNOW that the internet has completely changed the way we listen to music. 
Before streaming services were widely available, teens and young adults in tight-knit Tumblr communities or in the countless subreddits relating to music were exchanging songs, demos, and gossip relating to their favourite artists, and before we knew it, we had 'stan culture'. It became easier than ever before to become a die-hard super-fan of any artist you took a liking to, as fans were able to access huge catalogues of live and recorded work through illegal downloading and Youtube. 
Then streaming took over. Many felt a huge sense of loss when they had to abandon their huge music collections on old hard-drives, in order to opt for Spotify, Apple Music or Tidal, because they are much more convenient. MP3 players and iPods are dead as a result, and yeah, it's more convenient – but what if I want to show somebody my impressively large collection of Lana Del Rey demos from 2008-2012 and my laptop's not around? What if my favourite Drake songs (Girls Love Beyoncé), never made it to an album? How will I ever listen to Elite Gymnastics again? There some very obvious disadvantages to streaming. But there are also some unexpected advantages, too. 
One of these advantages is that we are now all exposed to an array of music that we probably never would have listened to if we were still going to record shops or CD shops to access and purchase music.
Musicians and artists have more inspiration and influences to look to than ever before, as well as more resources for producing music, while fans open up Spotify, Apple Music or Tidal every couple of days to find a brand new playlist tailored entirely to their unique taste awaiting them. Paying for a streaming subscription gives us unlimited access to every conceivable genre. This means that we're now listening to music that we might not have necessarily paid for in the past, or music that we wouldn't have bothered downloading. 
As a result, it's really not unusual for young people to listen to music with lyrics in a foreign language, that they don't even understand. In my Spotify Made For You playlists, I often get music made by artists who speak German, Spanish, French, Japanese and Korean, even though I don't speak any of these languages, apart from a bit of rusty Leaving Cert German. Recently, Spotify recommended an R&B song to me in Medieval English, and it wasn't half bad. (This is the song, if you're curious). 
Would I have gone out of my way to buy a CD in a foreign language ten years ago? I can't really imagine that I would have, but now I find that every day I'm listening to more and more music in languages other than English, and I am definitely not alone in this. For instance, look at how popular Latin pop music is becoming in Ireland, the UK and the United States.
We're not talking Despacito here or anything, either. If you were asked what you thought of Latin pop music a decade ago, you'd probably just say it was a cheesy reminder of a holiday, or say "Oh, I love Enrique Iglesias!" It wasn't charting very often in Ireland, and it wasn't something that was taken very seriously. Although – neither was English language pop music until very recently. But now, Latin pop music is well-respected and acclaimed, with the big names like Cardi B, Kali Uchis and Jessie Reyez at the forefront of the genre and all over the charts. 
While Cardi, Kali and Jessie all primarily make music in English, musicians and artists whose work is almost always in their native tongue are becoming more and more popular.
Leading the way here is 25-year-old Catalan pop-star Rosalía.
Rosalía's music is a modern interpretation of flamenco, an art-form that is hundreds of years old. At first, this doesn't sound like something that might not appeal to young English-speaking audiences. Rosalía explained to Rolling Stone, "I learned the tradition. I learned all the rules.", while speaking of her eight years studying flamenco under a local legend and at the Catalonia School of Music. "The classical basis is so important to me. But from there, I want to have freedom." So, she combines her training in flamenco with her own identity and style.
And people are mad for it. While the music itself is brilliant and probably unlike anything you've heard in pop music, the accompanying aesthetics are just as impressive – which is a huge part of her appeal. Fader recently wrote:
She performs flamenco moves with precision and flair against a series of Instagram-friendly backdrops, like a retro liquor store, and a neon-lit parking lot. It's a loving combination of tradition and modernity.
Maybe, like emojis, Instagram is a universal language. The visuals are just as important to Rosalía as the music, which is clear as soon as you watch basically any of her music videos. She explained to Rolling Stone, "I use the Spanish cultural imagery." 
My town is very industrial, so truck drivers are part of my imagery. My grandmother took me to mass on weekends, I have memories of all that. I use all those cultural elements that are so present in my society, the Spanish society in which I grew up. 
Although this is the first time many outsiders have encountered something like this from Spain, it's something we can all relate to, as Pitchfork point out – "Rosalía is asking what it means to be young and Spanish in a country pulled in two directions at once, split between regional identity and globalisation's siren song." 
Although Rosalía's career is just getting started as she's still pretty young, she has received a rake of nominations at the Latin Grammys, including Best New Artist, and Song of the Year. She actually won two awards at the 2018 ceremony too – for best Urban Fusion/Performance and Best Alternative Song. The song that won her both of the awards was Malamente, which you can check out below. 
Source: ROSALÍA/YouTube
After she won her two Latin Grammys, Rosalía used the opportunity to thank her favourite female artists – Kate Bush, Lauryn Hill, Missy Elliott and Bjork. 
These women paved the way for me to be here. I'm going to have to keep fighting until I find the same number of women in the studio as there are men.
It's obvious she takes inspiration from English-speaking artists, but she doesn't let that overshadow her own vision in her native language. She recently appeared on the new James Blake album, after James heard her 2017 debut Los Ángeles and said he "hadn't heard anything so vulnerable and raw and devastating in quite a while." Eventually, he got her in the studio and made three songs, before deciding to include Barefoot in the Park, a song in which she sings in both English and Spanish, on his 2019 album Assume Form. 
Source: James Blake - Topic/YouTube
With two Latin Grammys under her belt, a series of genuinely gorgeous music videos produced, collaborations with the likes of James Blake and hundreds of millions of streams and Youtube views, Rosalía's only getting started. 
In the coming weeks, she's set to release a collaboration with Billie Eilish, a teenager who's currently taking the internet by storm, which will undoubtedly be amazing, considering the work that these two artists have done as individuals. Without even hearing it, you'd nearly safely assume that it would be the song of the summer, if it weren't for the fact that these two artists both make such melancholic music. Maybe we'll all have a dramatically tragic summer with Billie and Rosalía as the soundtrack. 
Rosalía went to see Billie in Barcelona earlier this month and tweeted the young singer to let her know she was impressed. "Can't wait to finish our song. Seeing you perform inspired me sooo much." Billie has been reciprocating Rosalía's praise, recently telling Annie Mac that the Catalan singer "sang some notes [Billie] had never even thought about," and described Rosalía as an artist "who actually knows what she wants." Indeed, it's obvious through Rosalía's work that everything is carefully and deliberately planned, right down to every last detail in her music videos, which is something she shares in common with Billie Eilish, who put a lot of work into the music video for When The Party's Over after she was inspired by a fan's drawing. 
If a collaboration with Billie Eilish isn't enough to get excited about, Rosalía's also been working in Hollywood too, in a film alongside Antonio Banderas and Penélope Cruz. So, whether it's related to her acting or her music, you're probably going to be hearing a lot more about Rosalía.
DailyEdge is on Instagram!