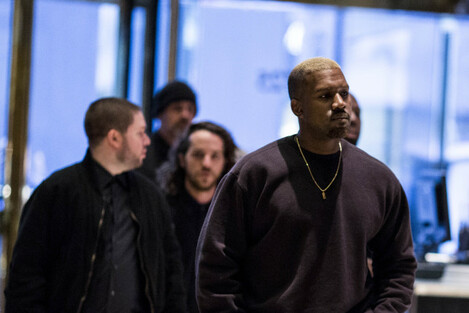 Source: Pool/ABACA
TEN DAYS AGO, Kanye West returned to Twitter after deleting his account nearly a year ago.
Over the last ten days, things have really gone from zero to a hundred. Kanye's tweets started off pretty innocuously, with Kanye tweeting photos of clothes he was working on and neck tattoos that he's thinking of getting.
Then, Kanye began to tweet that he was writing a philosophy book in real-time on Twitter.
A load of tweets that sounded like they were straight out of The Secret followed this announcement.
Kanye took his weird tweets in a whole new direction yesterday afternoon when he announced that he had fired his manager.
Kanye's manager was Scooter Braun, the guy responsible for Justin Bieber's success. Braun manages many major artists, including Ariana Grande, David Guetta, Usher and the Black Eyed Peas.
It's reported that Kanye told his entire team, from his lawyers to Braun, that they could either work for him full-time, or not at all.
This is the point at which many people stopped laughing. Plenty of people were here for the self-help tweets and the philosophy content, but at this point people began to get a bit concerned.
Kanye then began to tweet about Donald Trump.
Kanye wrote:
You don't have to agree with Trump, but the mob can't make me not love him. We are both dragon energy. He is my brother. I love everyone. I don't agree with everything anyone does. That's what makes us individuals. And we have the right to independent thought.
He then wrote that he still loves Hillary Clinton, too.
Meanwhile, Donald Trump was delighted with the glowing endorsement he received from Kanye West, tweeting that it was "Very cool!"
Kris Jenner was probably in a sweat watching all of this unfold, because Kanye wrote another tweet saying that Kim wanted him to clarify what he meant.
Kim commented about the entire situation on her own Twitter account.
Other celebrities are critical of Kim's comments. Azealia Banks took to Instagram to write:
No Kim Kardashian, Kanye is not ahead of his time. I said alllll of these things d uring the election. I had an actual reason for it. Never once did I call Trump a good person or say he deserves "love". Y'all are aggravating the black people at the expense of dragging their outrage into more clicks/streams etc for whatever Kanye is about to drop. Outrage is internet engagement algorithm 101. Y'all are not slick.
Banks continued:
Nothing at all profound, necessary or eloquent about anything your husband says. I wish you would make him read a book cover to cover before you send that black man into a world of white people with such base level theories as well as his very limited vernacular as pertaining to any of the pseudo-intellectual things he tries to say. Kanye will never be president and you will never ever be the First Lady. Give it up sis.
DailyEdge is on Instagram!