AN ITALIAN BASED lingerie brand has taken a stance against the term 'plus-size' by changing the name of their latest collection to 'Extended' instead.
Cosabella announced the change this week on its website, and it's being seen as part of a wider movement trying to stop brands from using 'plus-size' as a term.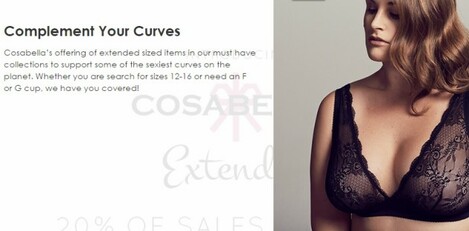 Source: cosabella.com
Cosabella is one of the first major lingerie brands to make the move away from the term. They have teamed up with the non-profit organisation Topless with what they now call their 'Extended' range.
The move comes after a social media campaign called #droptheplus – which outlines on its website why it is opposed to the phrase:
"Plus" implies bigger than "normal". Any model above US size 4 is considered a "plus sized" model. The average American woman is US size 14. Mixed with all the other body image pressures facing women, the implication that most women are "plus sized", not "normal" is very dangerous to women and society.
The Extended range from Cosabella will cover what is traditionally known as plus-sizes:
Whether you are search for sizes 12-16 or need an F or G cup, we have you covered!
Source: http://www.cosabella.com/
Starting today, the brand is donating 20% of its Extended sales to the Topless organisation until July 1.