IT MIGHT BE presumptuous to assume that everyone reading this would consider themselves a feminist – maybe not in name, but in support of women, at the very least.
Admittedly, this can be hard at times for both men and women. Years of patriarchal indoctrination means that all of us – to some degree – carry internalised misogyny with us. But now more than ever, we are retiring our old beliefs about everything from the things that women wear, to unknowingly pitting women in society against each other.
Rapper Mac Miller passed away this week after an apparent overdose. He was 26 years-old.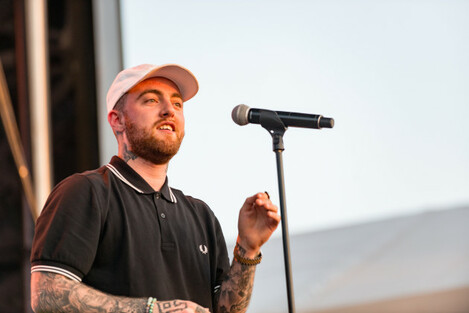 Source: SIPA USA/PA Images
In music circles, Mac would have been known for his critically-acclaimed albums 'The Divine Feminine' and 'Swimming'. Throughout his career, he was open about his addiction struggles. 
In recent months, Mac saw an increased media focus on him following his arrest for driving under the influence and hit and run.
This happened not long after his breakup with singer Ariana Grande.
Source: SIPA USA/PA Images
The pair dated on-and-off for two years, before Ariana left the relationship because of Mac's addictions.
With regards to the crash, the blame was placed firmly at Ariana's feet. Shortly after their relationship ended, it was announced that she was engaged to SNL star Pete Davidson. 
"Mac Miller totalling his G wagon and getting a DUI after Ariana Grande dumped him for another dude after he poured his heart out on a ten song album to her called the divine feminine is just the most heartbreaking thing happening in Hollywood," a user tweeted after the incident.
Ariana responded: "I am not a babysitter or a mother and no woman should feel that they need to be.
I have cared for him and tried to support his sobriety and prayed for his balance for years (and always will of course). But shaming / blaming women for a man's inability to keep his s*** together is a very major problem. Let's please stop doing that.
Of course I didn't share about how hard or scary it was while it was happening but it was.
I will continue to pray from the bottom of my heart that he figures it all out and that any other woman in this position does as well."
And yet, here we are again, on this vicious merry-go-round. Ariana didn't force Mac to get into a car that night. Ariana could not help Mac with his addiction struggles which ran too deep. Yet, Ariana has now had to disable her Instagram comments to stop the flood of #arikilledmacmiller hashtags.
Addiction killed Mac Miller, in the same way that addiction is responsible for Demi Lovato's recent relapse. Yet, when it was her, people made jokes at her expense and squarely blamed her for partying and associating with the people she chose to. What's the difference? 
As media outlets continue to link Mac to Ariana as her ex-boyfriend and use her picture for clicks, fans argue that Ariana doesn't deserve this because of her "difficult year". Last May, the Manchester concert on her Dangerous Woman tour was targeted by terrorists. resulting in the deaths of 22 people.
But what's the relevance? Would it be ok, then, to associate blame with her had her year been in rosy-in-the-garden? Why do people insist on assigning appropriate instances for misogyny when it is never, ever justified? 
All media outlets, but especially those marketed towards female audiences, have a responsibility to end this practice and stop undermining their readers. A story putting Ariana front and centre might get you a higher SEO ranking. But for what? Why would you want them to feel like this is a normal thing to partake in, when it's something we would (hopefully) never engage with in "real life" circumstances? 
It's normal to consider how Ariana might be feeling, given the gravity of the situation. No one is expecting anyone to pretend like they were never together. But otherwise, her name should remain out of people's mouths. Let's stop looking for women to blame and start asking why nobody is actively doing anything to stop the addiction epidemic ravaging Hollywood creatives beyond tweeting that "the stigma needs to end".
DailyEdge is on Instagram!