EVERY WEEKDAY MORNING, DailyEdge.ie rounds up the best of the day's celebrity dirt – from the top to the very bottom.
#OH NO YOU DIDN'T:  Beyoncé's tour of world domination is rumbling on, and last night hit Copenhagen.
During the show she frequently gets the crowd involved, holding the microphone out for them to sing into.  During one such moment last night a punter lost the run of themselves and gave her a smack on the ass.
THE ABSOLUTE CHEEK!  (See what we did there?)  She shut him down pretty quickly.
YouTube/IconicJs
That's our new line for anytime someone does something we don't like.
I will have you escorted out of here, alright?
YES GURL.
#MOMMY DEAREST: Poor Zayn Malik from One Direction has been getting an awful time of it on Twitter from people making cruel remarks about the fact that he's Muslim among other things.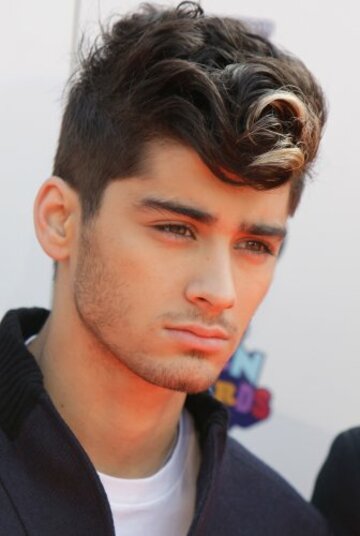 Look how sad Zayn is!  Poor, sad Zayn. Suzan/EMPICS Entertainment
You may remember he actually quit Twitter briefly last year after people calling him a terrorist – this time around his mam is getting involved. (The Sun)
Apparently, she has joined Twitter specifically to give out to people who are being mean to him.
She's reported to have tweeted one of them the following message:
Hope you're happy now Zayn noticed your tweet! You can't even imagine how it made him upset, you psycho!
She also tweeted that she'd urged Zayn to ignore them.
Maybe 1D could do a video with their mams like the Spice Girls did?  We'd quite like a good look at them.
YouTube/emimusic
#SUE-SUE-SUEDIO: Amanda Bynes is suing everyone apparently.
Since her arrest and the nasty tweets she is reported to have sent Rihanna, then immediately deleted, she's clearly on damage control. (Mirror)
She says she's suing NYPD for 'illegally entering her apartment', suing for being 'put into a mental hospital' against her will, suing her 'apartment complex for lying about her smoking in the building'…she's basically suing the whole world.
Oh and she's getting a nose job.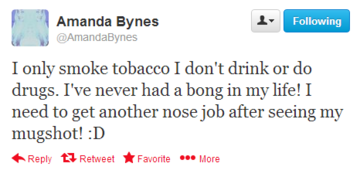 She also says all those Rihanna tweets are fake and they'll be in a music video together one day.
I saw a bunch of mocked up tweets about me bashing Rihanna in my mentions. I'm followed by so many people that someone is always mocking up fake tweets so I feel the need to address them! Rihanna and I met and I'm sure we'll be in a music video together one day!
Yes.  A music video.  Sure.
And the rest of the day's celebrity dirt…
Tulisa has a delightful tattoo just above her lady bits. (The Sun)
Muse like to party with 'gambling pigs, OAP dancers and a bearded lady striptease'. (The Sun)
Kelly Rowland has debuted a new song featuring Beyoncé and Michelle. (The Honesty Hour)