LAST MONTH, MERYL Streep won plaudits for her Golden Globes speech in which she eviscerated President Donald Trump.
Trump later responded to the speech by referring to Meryl Streep as "one of the most over-rated actresses in Hollywood," which went down about as well as you'd expect.
During his monologue, Jimmy Kimmel poked fun at the absurdity of Trump's comments.
We're  here to nominate great actors, but we're also here to nominate the actors that seem great, but really aren't. And of all the "great" actors here in Hollywood, one in particular has stood the test of time for her many uninspiring and overrated performances.
May I say from her mediocre early work in The Deer Hunter and Out of Africa to her underwhelming performances in Kramer vs Kramer and Sophie's Choice, Meryl Streep has phoned it in for more than 50 films over the course of her lacklustre career.
Kimmel then instructed the entire auditorium to stand up and give Meryl Streep a standing ovation.
Meryl, stand up if you would. Everyone please join me in giving Meryl Streep a totally undeserved round of applause, will you? The highly overrated Meryl Streep, everyone.
(If you can't see the video, please click here.) 
And because she's Meryl Streep, everyone duly obliged.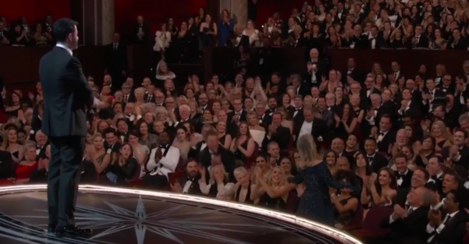 The ultimate act of trolling.
DailyEdge is on Snapchat! Tap the button below to add!