HOLD THE PHONE. There's a new weird dating trend taking over the internet.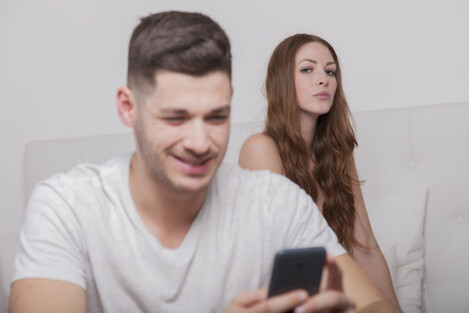 Source: Shutterstock/Herrndorff
Micro-cheating has been getting some serious buzz across the usual suspects. Social media, newspapers that are hoping they're down with the kids, and magazine sites who live and breathe on this dating stuff.
So, cut to the chase, what is it?
Micro-cheating is a form of cheating that happens mainly online. Basically, it means your constant likes and comments on a person's social media posts could mean that you're betraying your partner.
Hold on, seriously?
Yeah. Seriously. Psychologist Martin Graff coined the term. It covers liking posts, constantly checking for updates on someone's social media, or simply craving validation or approval from someone else offline.
Dating expert Melanie Schiling told the Huffpost that it can be defined as "a series of seemingly small actions that indicate a person is emotionally or physically focused on someone outside their relationship".
This sounds a bit… much
OK, have you ever private-messaged someone for WAY too long, and failed to tell your partner if they asked?
You're micro-cheating.
Have you ever reached out to an ex to wish them happy birthday?
Micro-cheater!
What about your constant refreshing of a co-worker's social media?
You're being too obvious about all this micro-cheating.

So where is the line?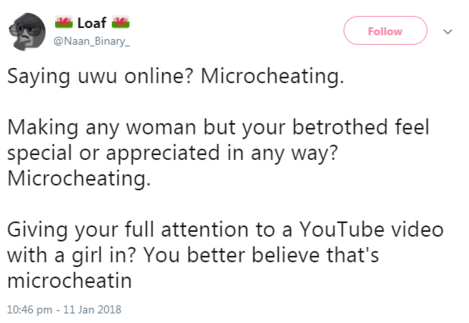 There is no line. Until you make your way up to actual cheating.
Relationship columnist Dan Savage noted that using terms such as micro-cheating can be indicative of 'controlling' partners. He writes:
Micro-cheating is not a thing. You know who regards these sorts of behaviors as cheating? Abusers.
People write in and call because their partners, usually male, are enraged by normal social interactions with others. A private joke shared with a workmate. Their partners rage and threaten because this is evidence of cheating or a desire to cheat.
The rage and threats are evidence that your partner is controlling and highly likely to become physically abusive. It shouldn't be tolerated or normalized with an up-to-the-minute/social-justicey new name. It's a RED FLAG.
So, where do we go from here?
It seems the simple way to avoid accusations of micro-cheating is to make sure that you and your partner are on the same page and have the same relationship boundaries set. It's all about communication, folks.
So, tell us. Do you think micro-cheating is a thing, or is it a complete overreaction?

Poll Results:
It's definitely a thing!
(394)
DailyEdge is on Instagram!