EVERY WEEKDAY MORNING, DailyEdge.ie rounds up the best of the day's celebrity dirt – from the top to the very bottom.
Scott Gries / AP/Press Association Images/Dreamworks Scott Gries / AP/Press Association Images/Dreamworks / AP/Press Association Images/Dreamworks
#MILEY MILEY: Miley Cyrus is at war with her celebrity neighbour Steve Carell, aka Michael Scott from the US Office and Brick from Anchorman.
Why? Because she drives into things. According to a new Rolling Stone interview:
"He [Carell] always gives me the stank-eye because I drive so fast," Miley says. "The other day I was trying to reverse and I almost hit a thousand things, and I was getting nervous because I could see him going" – she crosses her arms and lets out a big, annoyed sigh. "I'm like, oh, my God, Dan in Real Life is watching me right now!"
The full interview is full of delightful insights, including the fact that she got 'ROLLING $TONE' tattooed on her feet. In… kids' handwriting?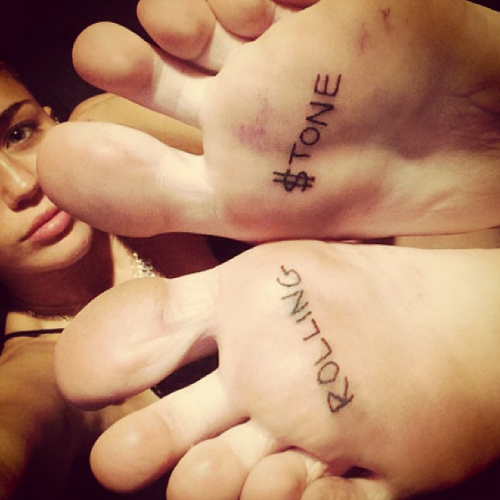 Instagram Instagram
#ONE DIRECTION: Some One Direction fans blundered into a snake pit, and Liam Payne tried to save them.
Basically, the band are currently touring Australia. Their fans have mobbed their hotel. However, because it's Australia, the fields out the back of the hotel are seething with snakes.
He's the voice of reason here: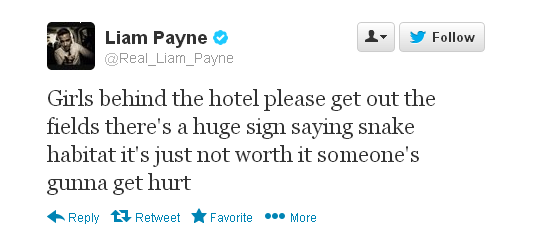 Yep. Team Liam on this one.
#TEEN MOM: Farrah Abraham's dad has weighed into the debate around her own-brand sex toy.
To recap: Farrah Abraham is the former Teen Mom star who successfully advanced her career by making a sex tape, tastefully entitled Backdoor Teen Mom.
She has now made a sex toy moulded from her own, um, genitalia. And her dad Mike Abraham fully supports this. And maybe wants his own. He wrote on his Facebook:
My daughter Farrah is funny and a progressive business women, I wonder if Topco will make a "Michael" Adult Toy …… Stay tuned
In reply to a commenter, he added:
Yes we all go through a maturing cycle … Some people it's harder than others… Farrah is learning
Here's the film of Farrah making the mould. There aren't any naughty bits in it really, but it's definitely NSFW. (via Radar)
isntdaveone1
And the rest of the day's dirt…