Source: Flickr
1. Yes, smuggling meat is one of our national talents.
Source: Éilis Ryan/Twitter
2. Where else would you get this sort of welcome home?
Source: Ciara/Twitter
3. JFK, Enda Kenny and, er, Martin Sheen
Source: Kevin Twomey/Twitter
You guys know he's not a real politician, do you?
4. Very worthwhile use of security, tbh.
Source: Flickr
5. NOT THE DRUIDS!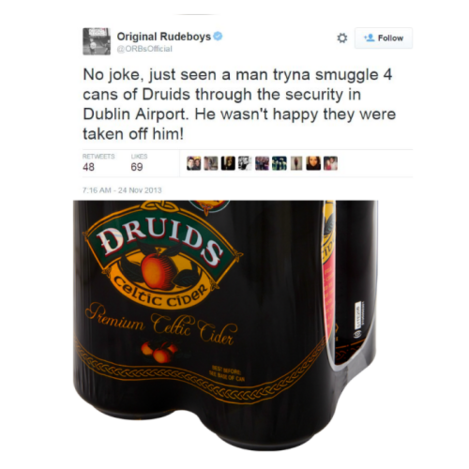 6. Dublin Airport: where they call you "blossom"
Source: Miriam/Twitter
7. The most Irish Mam sign of all time
8. Our sense of humour is never far
Source: Flickr
9. D'aw!
Source: Dorcas Crawford/Twitter
10. The most Irish welcome of all
Source: Mr.Tayto Ireland/Twitter
11. Ah Ireland: where you can justify bringing almost anything with you on account of "going to a stag"
Source: Murray Kinsella/Twitter
<3