THE MTV MOVIE Awards are hitting Los Angeles this Sunday, with Conan O'Brien taking over hosting duties this year.
With offbeat categories like Best Kiss, Best Fight and Best Shirtless Performance, it's always a bit of craic – here are some of the funniest moments from years gone by.
Sacha Baron Cohen's run-in with Eminem, 2009
Source: David Catapano/YouTube
This was later revealed to be a pre-planned stunt, which simultaneously disappointed and relieved us.
Jennifer Lopez dances with Les Grossman (AKA Tom Cruise), 2010
Source: AP/Press Association Images
Ever the excellent sport, Tom dressed up as his Tropic Thunder character Grossman again for the ceremony – and got down with JLo.
Rachel McAdams and Ryan Gosling recreate The Notebook kiss, 2005
Source: lilwilloughby121/YouTube
Traditionally, Best Kiss winners recreate the kiss on stage, and Ryan and Rachel didn't disappoint. The fact that they were actually dating at the time made it all the more lovely.
Jim Carrey being Jim Carrey, 1999
Source: SkylineTL/YouTube
What's going on here? Nobody will ever know.
Aubrey Plaza tries to steal Will Ferrell's award, 2013
Source: 1loveinter4/YouTube
Why is she DOING THAT. Nobody laughed. Get off the stage, Aubrey.
Justin Timberlake and Mila Kunis feel each other up, 2011
Source: Matt Sayles
There were rumours that during the filming of Friends With Benefits they got a little too close, so they did this to show they were just friends. But how did it prove anything? Celebrity logic.
Sandra Bullock lobbing the gob on Scarlett Johansson, 2010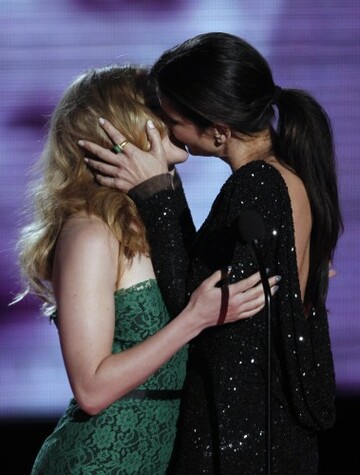 Source: AP/Press Association Images
Sandy and ScarJo didn't even win Best Kiss – Bullock was just so elated on winning the honourary MTV Generation Award that she went for it. There are few who wouldn't.