WE'RE ALL FAMILAR with the outrageous makeup trends that are born out of social media.
We've had Christmas tree brows.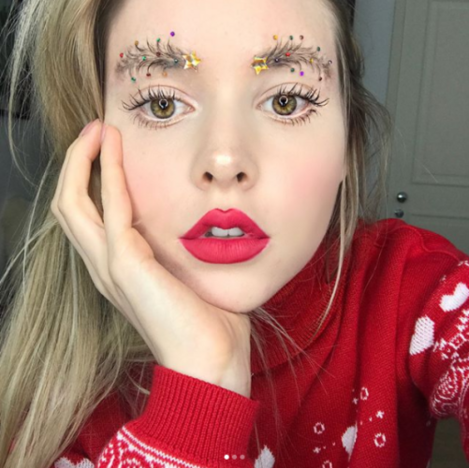 Source: Instagram/taytay_xx
Not to mention the countless number of mad challenges that have kicked off on YouTube – 'full face using only kids makeup', 'full face using only Crayola products' … You get the picture.
A lot of these have come with, as you'd imagine, intriguing thumbnails and exaggerated captions to draw you in – clickbait at its finest.
However, some Instagram makeup artists are taking it to a whole new level – by putting up videos of them seemingly EATING foundation.
When will it end?!
On Instagram, you can select your own thumbnail for whatever video you're uploading. So, MUAs are recording really short clips of them squeezing foundation into their mouths (*shudder*) and tacking them on to the start, so that the image draws you in to click (and hopefully, comment "WTF are you doing?"
Can't see the video? Click here (if you're not squeamish).
The videos are racking up hundreds of thousand – sometimes even millions – of views.
Listen, it's understandable that, at a time when it's harder than ever to get views or decent engagement on your content, it makes sense to resort to this. (Not to mention that Instagram's new algorithm means you don't see anything or anyone you actually like or follow).
But it is 2018. WE ARE BETTER THAN THIS. ON TOP OF IT BEING GROSS YOU ARE ALSO JUST BEING WASTEFUL. WHO RAISED YOU?
DailyEdge is on Instagram!