YOU'VE SEEN IT, and if not, you've heard it – that knee high little girl attempting to do yogo or lecturing a woman about the ingredients in her milk.
Yes, it's the National Dairy Council Ad Girl.
(This is where we'd usually include a video of the ad, but the cowards have chosen not to upload it anywhere).
Listen, we get it. Dairy sales are plummeting worldwide. They're trying to make the point that milk is simple and pure. But like … Does she have to be so patronising?
Twitter has had a visceral reaction to the ad, to say the least:
1. "Black coffee, please."

2. "So why did you decide to go vegan?"

3. Hook the almond milk to my veins.
Source: H🔺N/Twitter
4. "ONLY BLOODY NUT MILK!" needs to be the dairy-alternative tagline.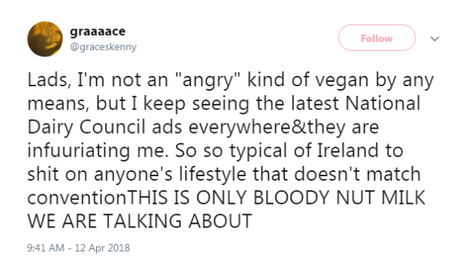 5. We love a good hate-watch.

6. No offence but …

7. "She's going in to labour!" "Quick, get the Avonmore!"

8. UFC 212 on pay-per-view.

9. Or just fight yourself! Simple.
Drink your soy, drink your cow milk. Whatever. Just get this ad the telly. Please.
10. Kim Woodburn speaks for herself.
DailyEdge is on Instagram!