ADMIT IT: WE'VE all taken a tumble on a night out. But most of us haven't made as smooth a job of it as this gal.
Source: Facebook/Level Nightclub Bolton
Olivia Wood was out at Level Nightclub in Bolton on Friday night when she found herself flying right down the club stairs:
https://www.facebook.com/levelbolton/videos/vb.805908662839834/952218228208876/?type=2&theater
Can't see the video? Click here.
We must applaud her for remaining oddly graceful throughout. Isn't there a bang of Dirty Dancing off this tumble?
Source: Facebook/Level Nightclub Bolton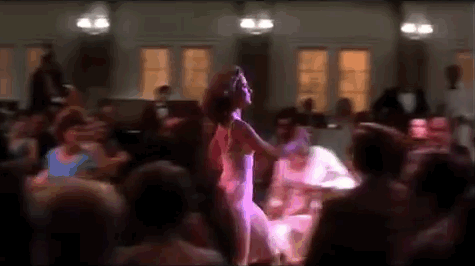 Source: Etonline
The nightclub put the CCTV footage of the fall on Facebook where it has been shared hundreds of times, but Olivia can see the funny side – she told Metro.co.uk:
I was tipsy but not wasted and just misread the step situation. My friend had just told me to watch the steps as they are quite steep, and I just turned and said "I know" then completely flew!
"I just got up, laughed and went and got a well-earned shot! I just have a bruised leg thankfully, but I still had a great night," she said.
In fairness, those stairs look TREACHEROUS, and when you add heels… What a trooper.
DailyEdge is on Snapchat! Tap the button below to add!