Source: Nick Gray/Flickr
IF YOU'VE EVER been to America, you'll know that they are mad for their paper towels.
While some bathrooms here have paper towels, us Irish prefer to dry our hands the old-fashioned way:
With a Dyson Airblade OR
With a clump of toilet paper when you get sick of waiting to use the the Dyson Airblade
The lack of paper towels in our loos has proved distressing to some Americans
"Don't it always seem to go that you don't know what you got till it's gone…"
Source: Morgan Carroll/Twitter
There are loads of tweets from Americans who are disgusted with our bathroom facilities.
Source: Tessa/Twitter
"YOU SUCK" – Americans when they encounter ineffective hand dryers
Source: Chandler Jenkins/Twitter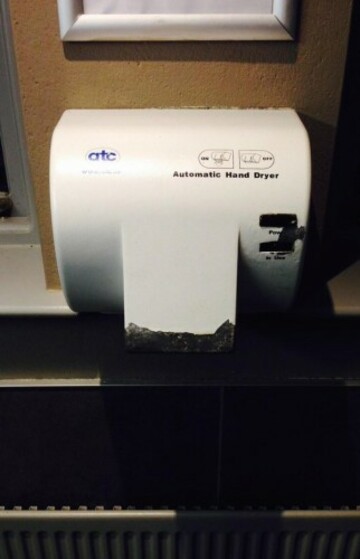 Source: Stephen Baker/Twitter
Our lack of paper towels is regarded with a sense of wonder
"In Ireland, they don't have paper towels in the bathrooms."
"WHAAAAAAT?"
"And, get this, they don't have plastic bags either."
Source: Elinor/Twitter
Although they are tickled by our use of the term "kitchen roll"
Source: queen chlorophyll/Twitter
Source: Flickr
There is also a solid appreciation of our Dyson Airblades
"What was the highlight of the trip?" "The extremely efficient hand dryers."
Source: Joey White/Twitter
Source: Nick Gebhardt/Twitter
Source: Brian Elliott/Twitter
We try our best.
<3
Source: Joe Chandler/Twitter
DailyEdge is on Snapchat! Tap the button below to add!