Source: Defence Forces
THE AIR CORPS got lucky* this morning and received an unexpected pat on the back for a successful inter-hospital transfer.
A patient had to be flown from Casement Aerodrome to Birmingham for "life-saving treatment".
The journey, which took under an hour, was successful.
Once it was complete, the troops were approached by a well-wisher who had been waiting behind the scenes at the airport – performer and record producer Pharrell Williams.
Pilot Captain Seán McCarthy from Carlow was clearly very happy*after the experience and wrote on the Defence Forces Facebook page that Williams was "modest and thanked us for a job well done".
"Pharrell actually approached us when he saw the uniforms and the equipment moving through the airport," he said.
He said he was travelling onto Geneva for the next part of his tour and when he was leaving said 'keep saving those lives'.
The Air Corps has so far completed 50 inter-hospital patient transfers this year.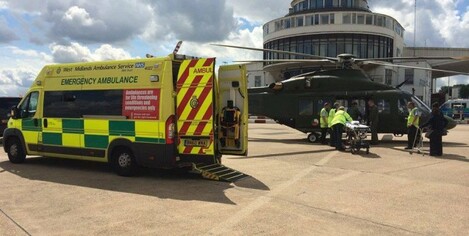 The scene of the transfer. Source: Defence Forces
*Do you get it? Sorry.