In the first of a new series, DailyEdge.ie wants to help you get in touch with your inner Pinterest professional via some basic AF crafts – so simple, even Fionnuala can do them. 
THE NEW YEAR prompted a sort of fight-or-flight response in me. The first week of January was taking up with watching videos of people upcycling, accompanied by muffled, mumbling commentary. "I could be those women," I said. "I could have my life together."
Upon announcing to my housemates that I was going to take the first step towards becoming a better person by turning my boring bedroom stool into the psychedelic shag seat of dreams, the lack of enthusiasm was apparent.
You know we're renting, Fionnuala?"
Point taken. With that, I decided to go back to what I know, build on the knowledge that I had acquired during many a pain-staking craft hour in primary school. I was a hopeless crocheter, squirreling away my hook and wool, silently screaming as my teacher requested to see my workings beyond a simple chain stitch.
However, I actually ended up being a decent knitter, turning out a pair of yellow and green slippers adorned with black pom poms (I was clearly not as equipped at handling colour stories.) I wore them religiously at home, despite their garish looking design that would probably pass for high fashion now, and the fact they provided little to no warmth.
The pom poms were the piece de resistance, and something that any ham-fisted child or adult could make effortlessly. So, I decided to give it a go for my first project.
What you'll need
Sharp scissors
Cardboard
A pencil/pen/something you can draw with
Wool
Some objects with round bottoms (don't) to trace with, like a glass
Method
Using some cardboard I got from a PR package, I traced out two circles using the bottom of a small glass. On top of those circles, I used the lid of a vineger bottle to trace smaller circles. The bigger the outside circle, the bigger the pom pom.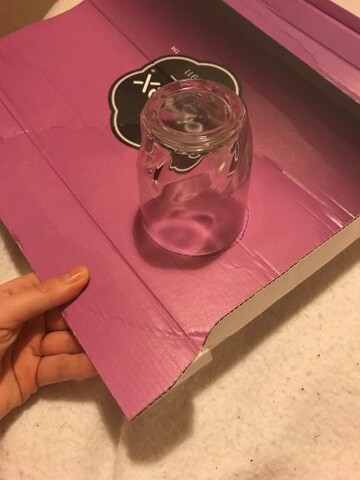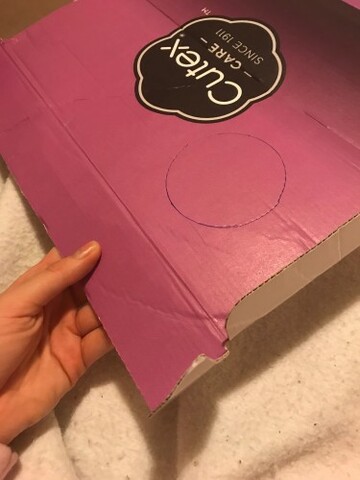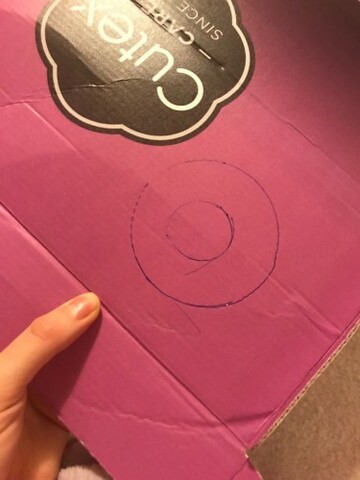 Grab whatever wool you want – you can use more than one colour for different effects. I stuck with baby blue starting off. Line your circles up and tie a line of wool to the circle stencil and beginning wrapping around the circles like so. To create a full and round pom-pom, you should wrap the yarn so the ring is very plump and the center circle is nearly filled in. If you want a loose and floppy pom-pom you can stop wrapping sooner.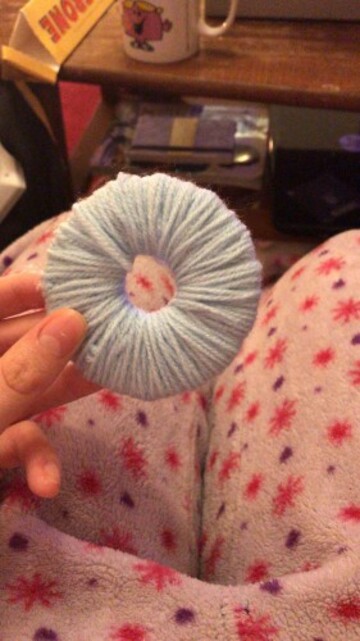 Keep wrapping until you can't see the circles. Don't go too thick or you will struggle with the next few steps, (as I did, lol.)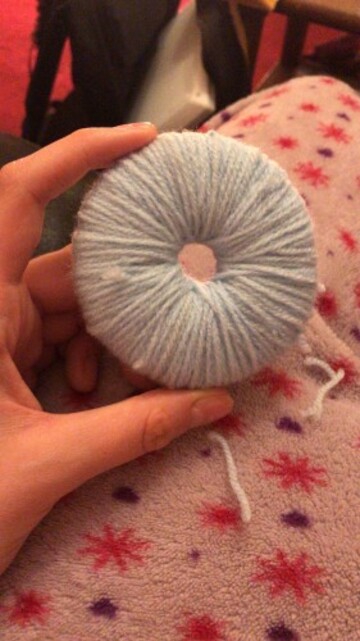 Taking a sharp scissors, cut around the edge of the ring. Once the edges are all snipped, cut off a length of wool and tie it around the middle of the pom pom using the stencil as a marker. Tie the wool once, then wrap the ends around to the other side and tie a double knot. Pull the yarn as tight as you can, without breaking the yarn. Leave the ends long.
Then, you can take off your cardboard template! Yay! You can work away then on trimming your pom pom and fluffing it by rolling it between your hands.
What you can do with them
If you're up for sprucing up your gaff, be prepared to make tens of pom poms for this cute cushion cover. 
Source: Dainty Diaries/YouTube
Can't see the video? Click here.
Myself? I'm going to see if I can fashion a pair of pom poms into earrings.
Source: Sapna Creations/YouTube
Video won't play? Click here.
Failing that, I'm sure my cat will enjoy destroying it. 
Got any crafting ideas that the most basic b*tch could manage it? Email fionnuala@dailyedge.ie with suggestions and she might just give it a bash!
DailyEdge is on Instagram!