Source: Pool
AS YOU MAY have heard, Prince Harry and Meghan Markle paid a surprise visit to Belfast today.
One of their first stops was The Crown pub. Meghan wore a green skirt, a white top and a leather handbag with a bit of an orange hue off of it. You can't deny that she looks like the tricolour in this pic: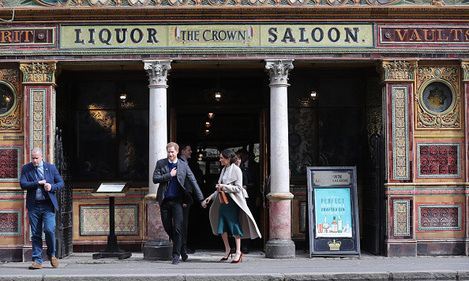 Source: Pool
Was she trying to send us a subliminal message? Who knows.
Anyway, while the pair of them were in The Crown Liquor Saloon (a former gin palace), they had a quick bite to eat.
Harry ordered sausage and champ, while Meghan had some stew. They each had a half pint of Guinness, and asked the bartender for a sample of a local beer. He gave them a half pint of Mourne Mountain Brewery Gold Ale.
Source: Pool
The Crown is one of the oldest pubs in Belfast, and is a pretty popular tourist attraction as a result.
After they visited the pub, they met members of the public and some school students, before heading to the Titanic Belfast maritime museum.
Source: Peter Byrne
They even posed in front of a projection of the the iconic stairs from the movie Titanic.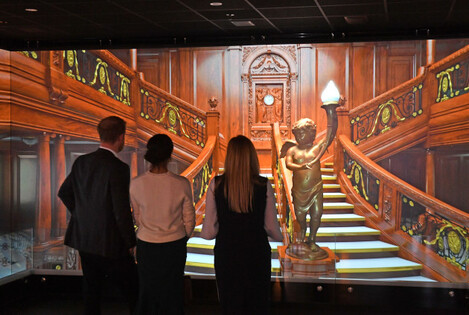 Source: PA Wire/PA Images
DailyEdge is on Instagram!