CHICAGO RAPPER CUPCAKKE has seen her fair share of hardship.
CupcakKe (whose real name is Elizabeth Eden Harris) was raised by a single mother, with whom she spent four years in Chicago's homeless shelters, from the age of seven years old.
As soon as she found success in music, she immediately began to give back to the shelters that saved her life when she was younger. In December 2016, she donated $1,500 and a load of toys to one of the shelters she stayed in as a child.
She wrote on Facebook "When I had nothing to eat, nowhere to go, no nothing – the shelter was there." Before adding that she had "struggled for years" and would donate more as soon as she could. Finally, CupcakKe said she wished she could give the shelter "every dollar" in her pocket.
Over a year later, CupcakKe is feeling as charitable as ever.
A twitter user from Baltimore appealed for help to house a friend of theirs who was about to become homeless because they were LGBTQ.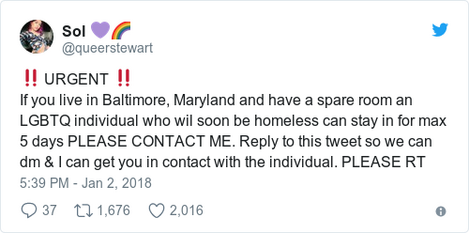 Source: Sol/Twitter
The tweet managed to find its way onto CupcakKe's timeline, and the rapper responded by saying "Tell him to pick his dream hotel. I'll cover it, including food. No worries love."

A GoFundMe had been started to help fund accommodation for the teenager, with the modest goal of $800. As well as offering accommodation for the teenager, CupcakKe pledged $600 to help them meet their GoFundMe target.
DailyEdge is on Instagram!