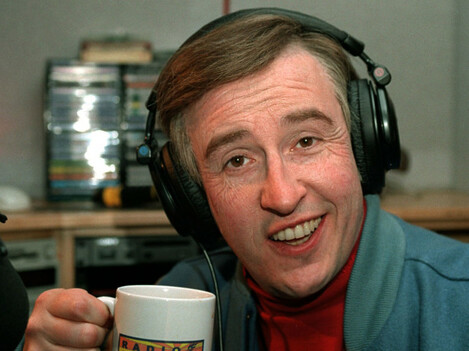 Source: BBC
THIS MORNING SAW Richard Madeley – of Richard and Judy fame, of course – wrap up his stint as Piers Morgan's stand in on ITV's flagship breakfast show Good Morning Britain.
Over the past week or so, Madeley has had an ~eventful~ stint in the chair.
He's basically been accidentally doing a long-running impression of Alan Partridge
The finest @alanpartridge impression I've seen. Might even be better than Coogan's. pic.twitter.com/1XKZyUQqRw

— ad libtard (@platitudequeen) August 24, 2017
If you can't see the video, click here.
The lines are straight out of a Partridge radio monologue:
You look at the beach and think 'pretty, pretty! Lovely golden sand… that's safe'. Uh uh, not in certain parts of the country. Quicksand!
It looks peaceful there – but it can be deadly. And a horrible way to die.
This anecdote about asking Gaby Roslin if she was pregnant in a restaurant is pure, distilled Partridge
Source: Mark Davies/YouTube
Yesterday though saw the pinnacle of Accidental Partridge. A guest on a video interview was finished when Madeley brought it back to tell him he looked like Robbie Coltrane – and he was having none of it
Richard Madeley on #GoodMorningBritain is GOLD.

This fella from Traffic Scotland seemed to really enjoy his banter.#GMB #RobbieColtrane pic.twitter.com/tfsQQTL1GI

— Gareth Sutcliffe (@wangage) August 29, 2017
If you can't see the video, click here. 
"Good morning Mr Coltrane!"
Following it up with a quick observation about what they're going to do when the Queen dies is Partridge broadcasting at its finest.
And finally, another impromptu anecdote took place yesterday:
"Intimacy took place"
Richard Madeley is the gift that just keeps on giving #partridge pic.twitter.com/fB3CJnfHWL

— Liam Walsh (@LiamCW1990) August 29, 2017
If you can't see the video, click here. 
Oh, Alan.
The amazing week-long extravaganza was topped by Madeley getting his hair cut on live TV
Source: Good Morning Britain/YouTube
Fans have been "pleading" that he gets kept on – but most people have just been commenting on the eerie similarity to Alan Partridge
His "say literally anything that comes into my head" style of broadcasting was championed in Radio Norwich
Source: Twitter
JURASSIC PARK!
Back of the net!
DailyEdge is on Snapchat! Tap the button below to add!