2017 HAS BEEN surreal in general, but somehow Irish TV managed to out-weird itself and everyone else. Here are a few of our most cherished moments.
1. Hughie Maughan's tan disaster on Dancing With The Stars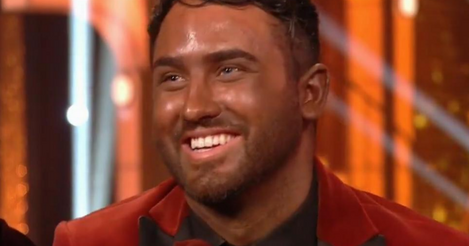 Source: RTÉ Player
Iconic!
2. TV3 weatherman Deric Hartigan literally getting blown away
Source: TheJournal.ie/YouTube
In fairness, that umbrella is the size of a parachute. You had to know what was going to happen, Deric.
3. The whole country rewinding the news to hear this farmer's Kerry accent
https://www.facebook.com/rtenews/videos/1637970189565310/
Can't see the video? Click here.
It's fantastic. (We hope he got his sheep back.)
4. Bibby the cat opening Tracie's fridge on Gogglebox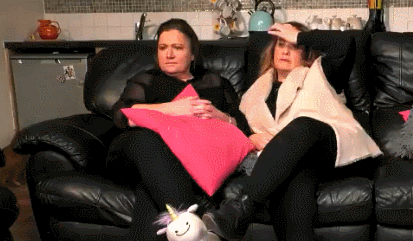 Source: 3 Player
Bibby is the star of the show in our eyes. See also: Him tormenting the dog.
5. Aengus Mac Grianna deciding to read the sports news too
Source: RDinHD/YouTube
"Well actually, that's your job Eamon." Ah, we'll miss you Aengy.
6. Peter Kay singing big band covers of Catholic hymns on the Late Late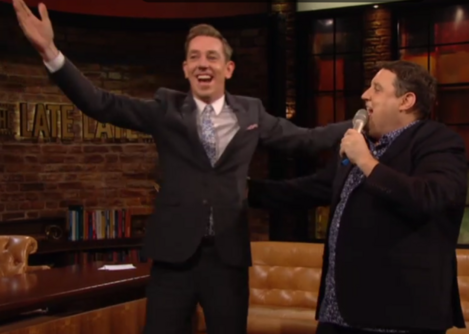 Source: RTÉ Player
No one could quite believe what they were singing and dancing along to, but no one minded either? His version of Make Me A Channel Of Your Peace is a banger, so fair play.
7. RTÉ weatherman Gerry Murphy pulling out a decent Bono impression on The Ray D'Arcy Show
Source: RTÉ - IRELAND'S NATIONAL PUBLIC SERVICE MEDIA/YouTube
We weren't ready for this. The hunched-with-arms-crossed pose? Uncanny!
8. The Late Late forgetting Northern Ireland was a thing
Easy mistake to make. Maybe. Actually, not really at all.
9. Mel Gibson, Will Ferrell, John Lithgow and Mark Wahlberg watching Fair City for Gogglebox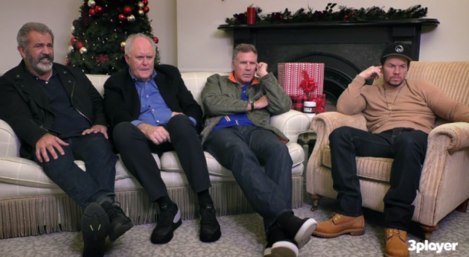 Source: 3Player
Source: 3Player
Will Ferrell in there with the observation of the decade, perhaps.
10. That f**king Mace ad with the orange heads
Source: MACE Ireland/YouTube
HORRIFIC.
11. The man who was only delighted to win a leg of lamb on the Late Late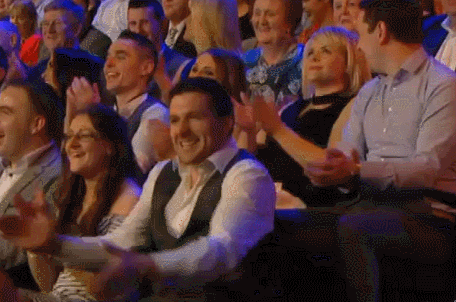 Source: RTÉ Player
Also: The fact that they were giving away legs of lamb on the Late Late.
12. Pamela Anderson trying her very best to understand Mrs Brown, as a concept
Source: RTÉ Player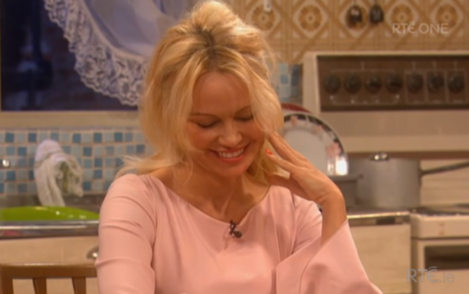 Source: RTÉ Player
While she valiantly tried to talk about veganism on All Round To Mrs Brown's, she ended up watching Andy Murray's mum Judy hit a tennis ball at Novak Djokovic's face.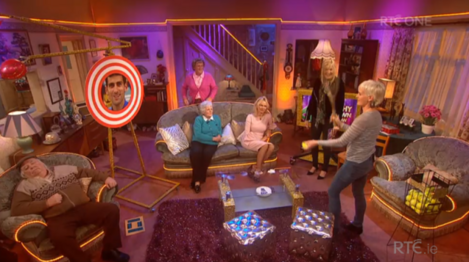 Source: RTÉ Player
13. Ryan Tubridy dragging a child around the studio on the Toy Show…
Source: RTÉ Player
He's gone mad with power!
14. And pretending to be a cow so another child could show him how he herded cows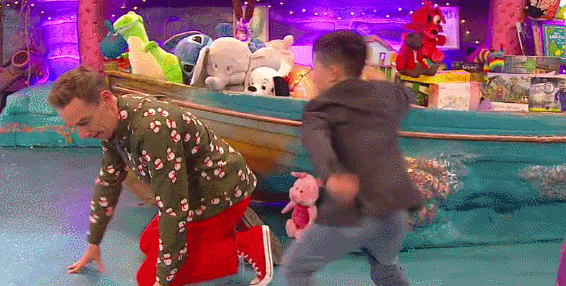 Source: RTÉ Player
Imagine if anyone abroad saw this. Tourism in Ireland would effectively cease.
15. Two teenagers getting caught shifting on the Six One
Can't see the video? Click here.
What needs to be explained is why the poor gooseberry had to take a picture of them at it.
16. And of course, 'The Dessie Swim'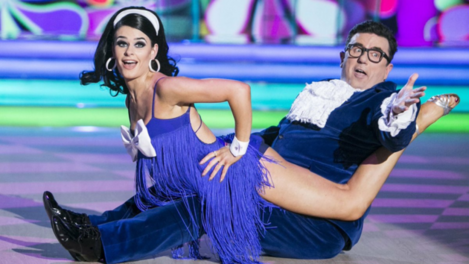 Source: RTÉ
Des Cahill's appearance on Dancing With The Stars gave us so much. Maybe we didn't ask for any of it, but still. We're glad it happened.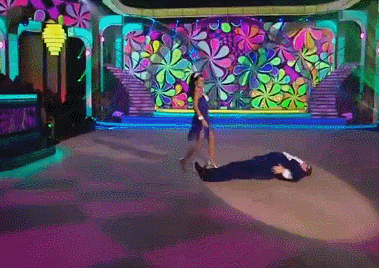 Source: RTÉ Player
H/T Buzzfeed
DailyEdge is on Instagram!