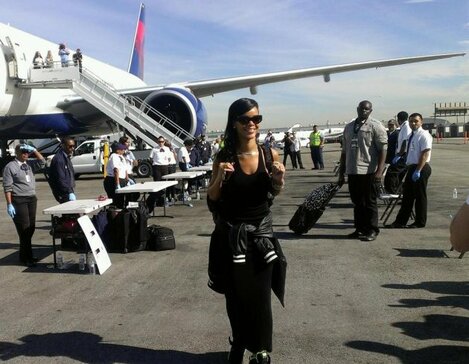 (@Rihanna/Twitter)
THIS TRIP SOUNDS like it could be the best thing ever, or hell on earth.
Around 150 journalists, a gang of die-hard fans, some DJs, security, and an entourage have joined Rihanna for a seven stop whirlwind trip around seven major cities to promote her new album.
The journalists are in one section of the swanky Boeing 777, the fans are in another, and Rihanna is in the swankiest part. She sporadically roars into the intercom about tequila and diamonds, or comes out for a dance and forces booze down their throats.
The venue for each gig isn't revealed until the whole gang is on the place on their way to the next city (the next city being Stockholm)
Not much sleep is being had, and there's a different Rihanna concert in a different city every night. We feel tired/mega jealous even thinking about it.
Day one: Mexico City
Rihanna stepped on the plane, and almost immediately began dishing out the booze and demanding a party via the intercom system:

FM104 presenter Seán Munsanje is on the plane (as is The Star's Mark Kavanagh), and filmed Rihanna handing out drinks to all and sundry:

YouTube/IrishGuru1
He also witnessed Rihanna "having the craic":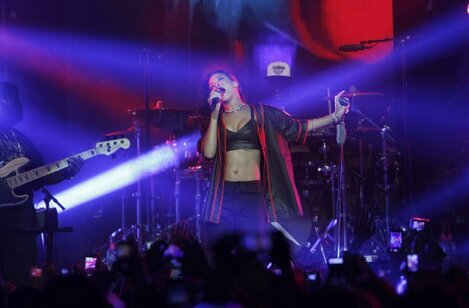 Rihanna performing onstage in Mexico city on Wednesday night (AP Photo/Marco Ugarte)
MTV reporter Mary HK Coi seems to be struggling a bit:  "You never leave an airport, bus, plane or venue":
…there's the rest of us packed in like journalist sardines. With another segment dedicated to Rihanna's die-hard fans and members of her Navy. Nobody's really talking to anyone they didn't know before, but it is interesting that we all have full-size pillows and NICE blankets.
Day two: Toronto
First off, Rihanna collected her own bags at Toronto airport, because there'd been baggage delays at Mexico City, and because it's "her sh*t".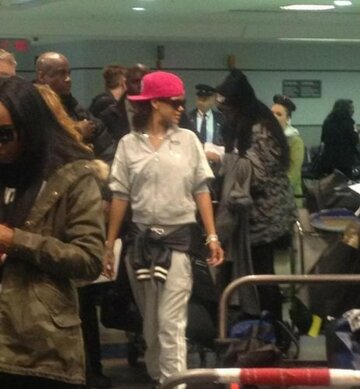 "Whoa. @Rihanna's just like us waiting for luggage at baggage claim in Toronto" (@Queerty/Twitter)
We forgot to mention the flight's goodie bags, which include Rihanna socks and a real diamond necklace!
(Maud Deitch/MTV Style)
Day three: Stockholm
The flight is currently on its way to Stockholm where Rihanna will play another secret venue. Some more journalists are flying out to join the tour.
In in-flight news, Rihanna has bought 70 bottles of Ace of Spades champagne for the flight, and only seven have been opened so far, according to Emily Zemler, who's on the tour.
Chris Brown is due to perform in Stockholm on 19 November, so there are ferocious rumours that the pair will be meeting up there. Posters have been popping up in the city which are using the image of Rihanna's face after Chris Brown beat her up in 2009, in an effort to pressure organisers to call off the show:
(@Sweden/Twitter)
Still to come: Paris, Berlin, London and New York. God speed all ye who fly with Rihanna Airlines.