Source: Daisy's Days/Facebook
DAISY'S DAYS IS a Facebook page that follows the journey of a 4-year-old child battling with Rett Syndrome.
Rett Syndrome is a rare genetic neurological developmental disorder, which leaves Daisy non-verbal, unable to use her hands or sit unaided, crawl, stand, walk or eat without a tube.
Source: Daisy's Days/Facebook
On top of that, Daisy suffers with daily seizures, painful spasms and has had several bouts of pneumonia but remains "the cutest, bravest, most adorable little girl with a heart and smile to melt the toughest of tough." She 'puts the rett in pretty' and has a lovely relationship with her dog Lady, according to her mam Lynn.
Her family began to witness her condition deteriorate and decided to start a bucket list. They took her home after 112 days in Tallaght children's hospital and made the decision with their consultants not to go into ICU again.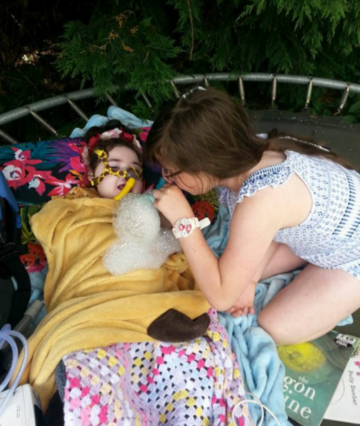 Source: Daisy's Days/Facebook
They're focusing on Daisy's bucket list now and are currently trying to crowdfund the activities on it over on their Gofundme so that Daisy can do everything from visiting butterfly farms to flying on a hot air balloon with her grandad.
They want to "fill her short life with memories that will live on forever" and so that they know that no experience was un-achievable for their special hero.
Already Daisy has completed a few of her wishes on her bucket list, including holding snakes and tarantulas. For that alone, she's already braver than most adults.
Source: Daisy's Days/Facebook
Last week Daisy got a lovely surprise when Ryan O'Shaughnessy (who used to play Mark in Fair City before he blew judges away on The Voice of Ireland) showed up to her home in Bohernabreena to sing his song 'Just Down the Road', which was written in aid of Pieta House.
The video of her reaction to Ryan's performance is very heartwarming.
While speaking to the Mirror, Lynn said "The words of that song meant an awful lot to us at the time. I would sing it to Daisy a lot. She loves music, it's everything to her." While in hospital, Daisy would be visited on Tuesdays by music therapist Alison Sweeney.
After Ryan's performance, he asked Daisy if she liked the song and she "looked at him and then down at the guitar, telling him to keep going".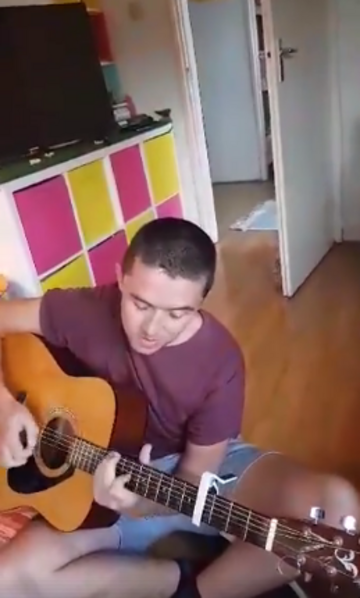 Source: Daisy's Days/Facebook
When one person commented on the video that they were heartbroken for Daisy, her mother replied:
Not everyone can understand it, but we are actually a very happy family and feel so very lucky to understand how valuable and precious life is.

Unlike many other healthy able-bodied individuals, we appreciate every special little moment and that is the strength we have to fully embrace life in its totality. There's only one rule for friends in our home and that's to leave negativity and sadness at the door.
She went on to say that there's no reason at all to be sad for Daisy, because she's a 'happy, loved and cherished little lady who is living life to the max'.
Such an amazing outlook to have. If you'd like to donate and support Daisy's bucket list, you can do so here.
DailyEdge is on Snapchat! Tap the button below to add!