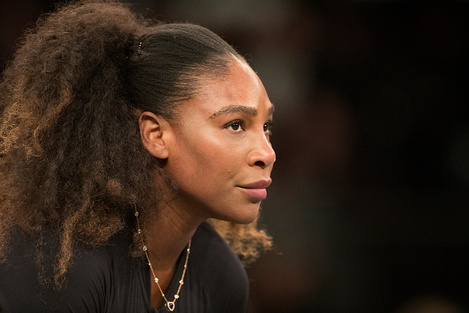 Source: Corbis via Getty Images
IN SEPTEMBER 2017, professional tennis player Serena Williams gave birth to her first child, Alexis Olympia Ohanian Jr.
In the weeks that followed, Serena revealed that she had a serious health scare after giving birth to her daughter. The 36-year-old has had a history of blood clots/pulmonary embolisms, so she recognised the symptoms of what was going on immediately.
Source: Elsa via Getty Images
She told Vogue that she assumed she was having another pulmonary embolism, when she found herself short of breath.
She told the nearest nurse, between gasps, that she needed a CT scan with contrast and IV heparain (a blood thinner) right away. The nurse thought her pain medicine might be making her confused. But Serena insisted, and soon enough, a doctor was performing an ultrasound of her legs.
Serena was not happy about this and insisted that the doctor should forget about the ultrasound and get her the CT scan that she asked for.
The ultrasound revealed nothing, so they sent for the CT, and sure enough, several small blood clots had settled in her lungs. Minutes later she was on the drip.
Williams had even more problems during her recovery, as her C-section wound burst from all of the coughing caused by the pulmonary embolism. When they tried to mend the wound, they found a large haematoma in her abdomen which was caused by the blood thinning medicine.
As a result, Williams was unable to get out of bed for the first six weeks of  her daughter's life.
This experience was completely eye-opening for Serena Williams.
In an interview with BBC, Williams acknowledged what a privileged position she's in, with the economic resources that she has:
What I went through, it'd be really difficult if I didn't have the healthcare that I have. Imagine all of the other women who do go through that, without the same healthcare, without the same respondents, it's upsetting.
Unfortunately, a lot of African Americans and black people don't have the same experience that I have.
She highlighted the fact that in the United States, black women are three times more likely to die from complications during child birth or pregnancy than white women are.
There are some things that we are genetically pre-disposed to that some people aren't. So knowing that going in, or some doctors not caring as much for us, is heartbreaking.
The 23-time Grand Slam winner said that it's time for women to have "uncomfortable conversations" and speak up. Williams urged black women to "get feisty", stand up and say "No. This isn't right."
DailyEdge is on Instagram!