FOLLOWING THE SAD death of Hollywood legend Carrie Fisher last week, Irish actress and Catastrophe co-star Sharon Horgan shared an emotional goodbye on Instagram.
Today, she's followed it up with an article in The Guardian and it's the best thing you'll read today.
The intro alone is powerful and heartfelt:
It's hard to write a love letter to someone who was allergic to bullshit. I keep reminding myself that she would have laughed in my face. That's enough of a reason to keep this saccharine-free.
The tribute has anecdotes ranging from sofa chats with their dogs to Horgan and Fisher having dinner with Salman Rushdie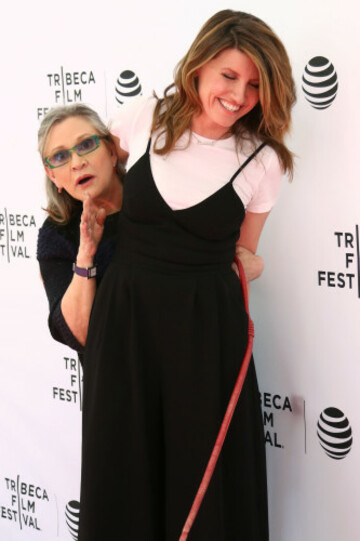 Source: EMPICS Entertainment/PA
She was "so real that it was almost dangerous":
But the beautiful truth about Carrie is that she was genuine. She knew her talents, she knew her cultural importance, but she was humble, too. She didn't have to feign her modesty. Her modesty and insecurity were part of her makeup. She was so real that it was almost dangerous.
The whole piece is jam-packed with heart.
Despite the tragic circumstances, Horgan's tribute has been appreciated by so many today
Personal, moving and completely bullshit-free
Given it's been a hard week for fans of Carrie Fisher, this has been welcomed by all
The prevailing sentiment? This is just lovely
RIP.
DailyEdge is on Snapchat! Tap the button below to add!