Source: RTE
BROADCASTER AND songwriter Shay Healy appeared on the Saturday Night Show last night, giving a deeply personal interview about the effects of Parkinson's.
Healy, who wrote Ireland's winning 1980 Eurovision entry What's Another Year, was diagnosed with the degenerative condition in 2004.
He spoke to host Brendan O'Connor about the disease, saying:
Parkinson's operates on its own level, it does things do you you've no control over. Even now I'm feeling under a bit of pressure. It ties up the muscles.
But he said that when he is on stage,
The pains go away, the stammer goes away, everything recedes and I'm able to sing.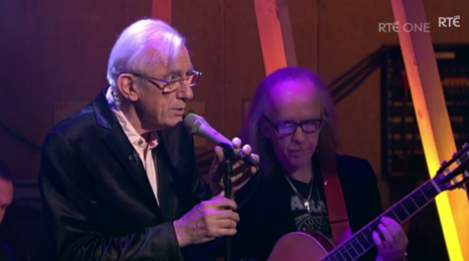 Source: RTE
Healy then performed his new song, When You Become Stardust Too, in which he addresses a grieving loved one:
Dry away your tears now / Our souls go on forever / And maybe we will meet again / When you become stardust too.
It was a powerful moment:
Source: RTÉ - Ireland's National Television and Radio Broadcaster/YouTube
Ireland wept openly into its sofa cushions.
If you're not sobbing too much, you can download the song here.