BACK IN DECEMBER of last year Snapchatter and Facebook comedian Tony Cantwell posted another video to his excellent page.
But this wasn't just any other sketch.
"Meanwhile in Clongowes" has gone on to become so much more
Our protagonist is a student in Clongowes Wood College boarding school in Kildare, and he's collecting some orders because he's on a mission:
"Guys, please can I have your attention because I'm only going to nip out in the punto once"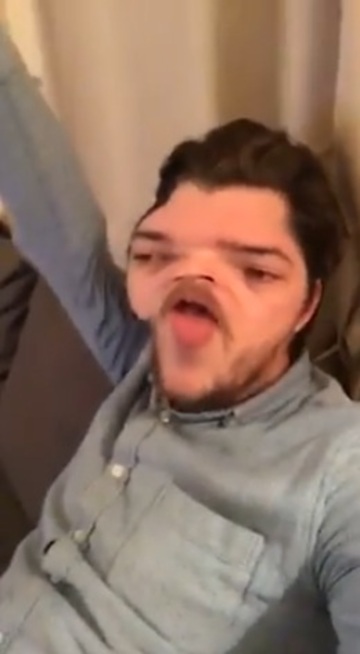 Source: Tony Cantwell
"Right, that is: three snack boxes, two cod and chips… we've got… breakfast rolls? If they have them Marius, how random, you bloody bellend!"
Source: Tony Cantwell Facebook
As the sketch goes on, other thirsty guys in desperate need of a soft drink feature – with the names getting more and more ridiculous throughout.
It's the cast of characters in Clongowes:
Oisin
Oscar
Cormac
Neen
Iasc
Gearroin
Waaaalter
Frantine
Ploon
Roll
Train
Since it was posted in December, it's been watched over half a million times - and to this day still carries so much momentum from shares and comments.
But not just that, the thirsty guys have become quite a glorious meme and taken on a life of their own.
Kendall Jenner goes to Clongowes
They can merge with other memes to form something even better
They're headlining Electric Picnic this year
Fans can reel the names off without watching it again
Slowly but surely the sketch moved from the realm of funny internet video to something more than that.
You just have to utter the words "soft drink" online in Ireland and there's a good chance you're referencing Tony's sketch
The most famous wonderfully posh names to come out of the sketch are Iasc
Ploon, of course
And Neeeeeen
Neeeeeen.
It's got people investigating other words as Gaeilge that can be used for names in the future
And don't even think about mentioning a Punto without sounding like you're on a soft drink run
A beautiful thing.
You can find Tony on Snapchat as @tonyhorror and on Facebook here, baby.
DailyEdge is on Snapchat! Tap the button below to add!