TOMM MOORE AND Paul Young are just two of a gang of around twenty who've made the trip to Hollywood for this year's Academy Awards.
They're the director and producer, respectively, of Cartoon Saloon's Song of the Sea which is nominated for an Oscar for Best Animated Feature.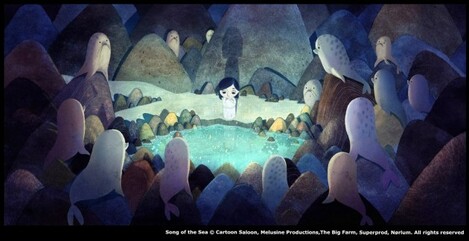 Source: Cartoon Saloon
Of the twenty or so who've made the trip from the Kilkenny animation studio – including writer Will Collins and Moone Boy actor David Rawle, who provides the voice of Ben in Song of the Sea – only ten have tickets, so the campaign is on to round up a few more.
Moore told DailyEdge.ie today that with only a day to go, they're hoping to swing a few more coveted seats in the Kodak Theatre.
What happens is some people don't pick up their tickets and then there's a mad scramble to get your hands on them.
This is Moore's second Oscars with his second feature film. He was nominated in 2010 for The Secret of Kells, competing in a strong category which featured Coraline and Wes Anderson's Fantastic Mr Fox.
They lost out to Pixar/Disney's Up, and at the time Moore said that he hoped to come back to the Academy Awards in three or four more films.
Turns out it only took one.
Song of the Sea, a beautifully hand drawn tale of selkies and the sea is up against the likes of How To Train Your Dragon 2 and Big Hero 6.
Moore says he believes they have a good chance, and have been fighting their corner.
Even before you're nominated there's a campaign to be nominated. And we've got lots of support from the animation branch of the Academy. Although Dreamworks (How To Train Your Dragon 2) have spent about a million on their campaign… we've spent a few cents.
For Moore and his team the best part of coming to Hollywood for the Oscars is the chance to meet and talk shop with other purveyors of the animation craft.
There have been symposiums and meetings and Q&A sessions, and Moore says it's at these times when "the Academy really feels like an Academy".
But, you can't forget about the celebs, and Moore says that the parties, the dressing up, the ceremony itself are all an added bonus.
Back in 2010 he had a few surreal brushes some big names, namely heading to the bar during a commercial break at one stage during the ceremony and getting locked out of the auditorium with Miley Cyrus after mistiming their return.
Another incident saw him desperately trying to avoid standing on the long train of Sigourney Weaver's dress, and intimating this fear to his wife.
Suddenly a voice beside him joked "go on, do it".
It was Morgan Freeman.
In terms of a win, Moore says there's nothing more they can do now except relax, sit back and cross their fingers.
The work of 200 people, five production companies and the guts of six years went into Song of the Sea.
It hasn't been released in Ireland yet, with Moore telling The Irish Times that Irish films tend to only be appreciated by an Irish audience once they've been successful outside the country.
Song of the Sea premiered at the Toronto International Film Festival, and has already been released in cinemas in the US. It's due for release in Ireland next month.
Source: Film Festivals and Indie Films/YouTube