WHICH IRISH PEOPLE watch the most porn when they visit a porn site? That would be the residents of south Dublin's leafy suburbs, according to figures from Pornhub.com.
Dun Laoghaire-Rathdown and South Dublin occupy first and second place in a list of Ireland's top ten traffic regions by pages per visit.
Users in those areas view the most pages each time they access the video porn site – an average of 8.49 per visit for DLR, and 8.35 for South Dublin.
However, when traffic figures are taken overall, Dublin City accounts for the vast majority.
Some 58 per cent of Pornhub's Irish traffic comes from the city centre – though users there seem to show slightly less enthusiasm than their Southside counterparts, checking out only 7.92 pages per visit.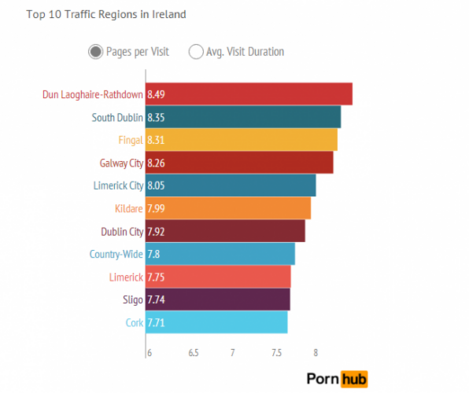 Source: Pornhub.com
The next biggest traffic region is Cork at 13 per cent. Kildare accounts for five per cent, Limerick city 1.8 per cent and Galway city just 0.9 per cent.
Pornhub said its Irish traffic has grown 20 per cent since 2012, and 77 per cent since 2010.
Unsurprisingly, its highest daily traffic period is 10pm-1am – although the site also sees an after-lunch rush between 2pm and 3pm.
The dark days of January brought Pornhub its biggest traffic month, while September saw the site's lowest traffic.