ON FRIDAY NIGHT, American man Ibby Piracha walked into his local Starbucks just like he does around three times a week.
The staff had got to know Ibby from his regular visits – and they also knew he was deaf.
So a female cashier handed him this note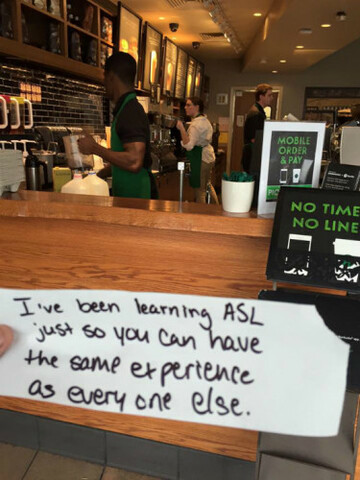 Source: Facebook
Ibby posted the lovely photo to Facebook on Friday. The Starbucks cashier had started learning American Sign Language just to help Ibby out:
Oh, I gotta love this place. Starbucks woman cashier, she wrote it to me and she knew I am deaf. I am surprised she learning sign language because I attend to Starbucks 3 times in a week.
His story has gone super viral – with nearly 4000 shares and over 14000 likes on Facebook – and the pure dedication of the Starbucks worker is winning serious praise.
He continued:
She asked me "what you want drink?" in sign language. I am so blessed with her. I think she realized Leesburg, VA have deaf people. Please share this post to everyone. I want hearing people would understand about hearing community supporting for the deaf community.
Once his story went global over the weekend, Ibby told a local news station just how much it meant to him:
She actually wanted to learn a different language…sign language is really a totally different language and it was something that she wanted to do because of me? Because I was a deaf customer? I was very, very impressed.
*applause*
DailyEdge is on Snapchat! Tap the button below to add!