IT'S PROBABLY ONE of the most recognisable "Irish" images on the internet.
A dog wearing a coat and a hat chatting to a man over a couple of pints of Guinness at the bar: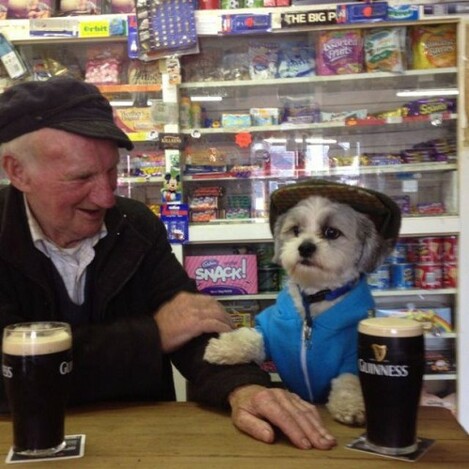 Source: Killeens Shannonbridge
It's been a long running meme for years now, thanks to a rather unique – and quintessentially Irish – combination of:
a traditional Irish pub (with sweets available behind)
an auld lad chatting
a couple of pints of the black stuff
an adorable dog with a flat cap on
Often, it's shared with a simple caption like this: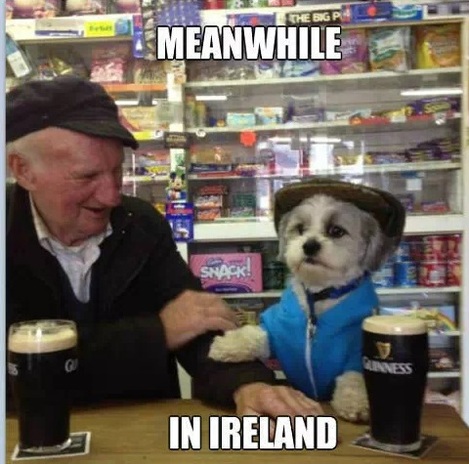 Source: memecentre
Or an imagining of what the pair are talking about:
Source: Pinterest
But what is the origin of this wonderful scene?
DailyEdge.ie tracked it down to a photo taken in Killeens Bar in Shannonbridge, Co Offaly back in 2013.
Meet Oscar
Source: Killeens Facebook
Bar manager Lousie Killeen tells DailyEdge.ie who the stars of the show are:
The man in the photo is Ollie, he's a regular customer here and Oscar is my dog and he comes into the bar every day with me to work.
And it turns out that Ollie and Oscar are in high demand:
People who come in regularly request Ollie to get a whiskey and Oscar to hop up there beside him for a photo. Sometimes they even recreate the pose from the photo itself.
We have postcards of the photo in the bar and people even request that they be signed by Ollie.
The pair of them are only too willing to sit for photos with whoever requests them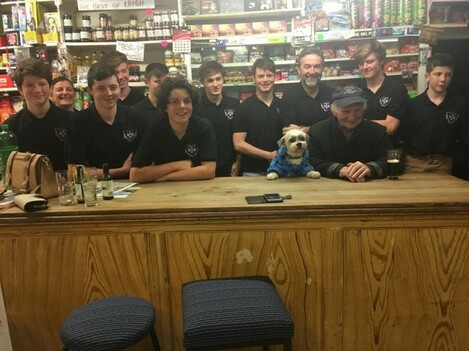 Source: Killeens Shannonbridge
The photo was taken back in 2013 and shared on the pub's Facebook page. It went on to internet fame, but how did it all come about? Louise says that it was a spur of the moment thing:
We thought we would take a few snaps of them, and that was the first photo we took on the day – and it's just spread from there.
The other photos from that day are just as good (some of them even feature Oscar's puppies)
Source: Killeens Facebook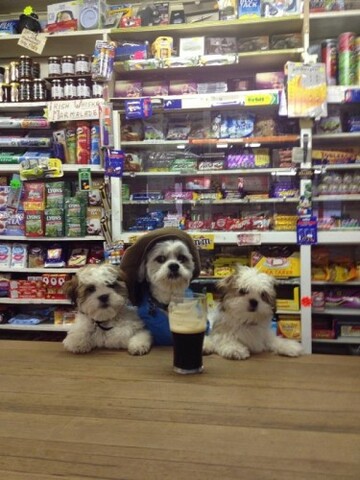 Source: Killeens Facebook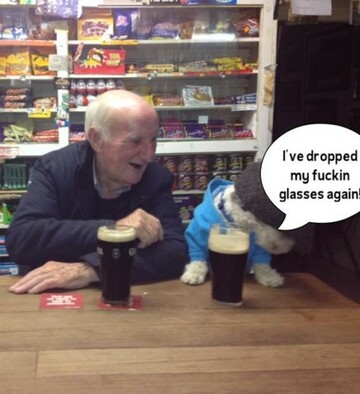 Source: Facebook
A crucial part of the photo's appeal is undoubtedly the stacks of chocolate, sweets and crisps visible behind. That can be attributed to Killeens being one of those classic half pub/half shop establishments – and Ollie and Oscar are propped up on the counter, not the bar. As Louise says:
We pretty much sell everything here, we recently sold a habit [a plain religious garment] to a nun, so that gives you an idea.
People drink in the grocery all the time, like on Sundays it could be packed and the bar quite empty, the regulars just love it.
Thanks to the photo popping up around the world, Oscar is a little celebrity in his own right
Louise has some great tales of Oscar getting recognised by the most unlikely of people in Killeens:
The photo has blown up way more than we could have expected. We get a lot of tourists around the area from March to the end of September on boats on the Shannon and the amount of people who recognise him when they see him is unbelievable.
A funny thing happened where there was a Spanish lady visiting the area who happened to be passing. She must have seen the picture on the internet because she nearly lost it when she was in the bar and spotted Oscar and Ollie together.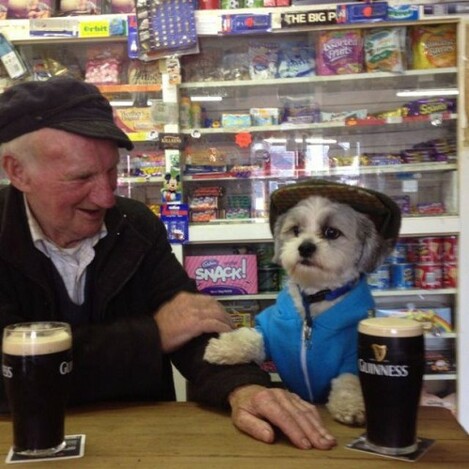 Source: Killeens Shannonbridge
According to Louise, Oscar can't get enough of the photo requests:
Any time you mention the hat and coat, Oscar is up immediately getting ready – he just loves the attention.
And what about Ollie and Oscar? Are they still having the chats?
The minute Ollie walks through the door, Oscar is straight over to him. Ollie would be a very quiet man but he can't hide his affection for Oscar. The two of them have such a strong bond.
Beautiful.
DailyEdge is on Snapchat! Tap the button below to add!