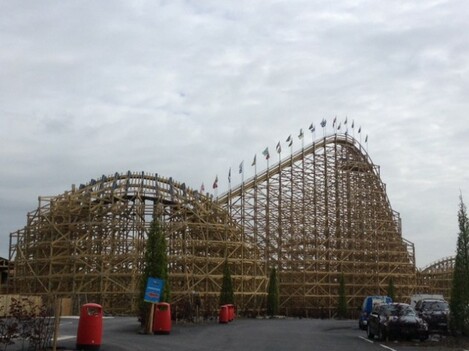 Source: DailyEdge.ie
THIS MORNING, TAYTO Park unveiled its brand new Cú Chulainn Coaster to the media, assorted rollercoaster enthusiasts and, of course, children on a school tour.
The rollercoaster is billed as "Europe's largest wooden rollercoaster" and opens to the public tomorrow at 12.30pm.
We at DailyEdge.iewere among the first to sample the thrills.
Here's what we learned.
*gulp*
1. First of all, there is an unbelievable amount of Tayto merchandise for sale at Tayto Park
Before you get to the rollercoaster, you pass through the gift shop. The gift shop is essentially a shrine to Mr. Tayto and contains every type of Mr. Tayto souvenir one could feasibly imagine.
There's Mr. Tayto balloons. Perfect for if a loved one is in hospital.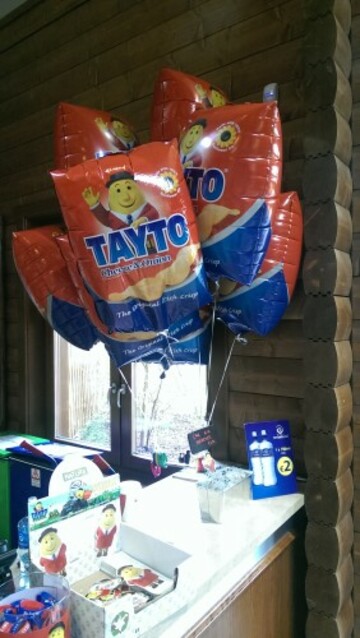 Source: Paul Hosford
Car air fresheners…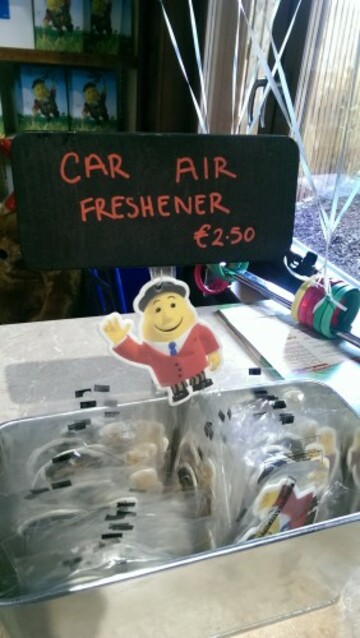 Source: Paul Hosford
These things!
Source: Paul Hosford
It's all very impressive.
2. Yes, the rollercoaster is made of wood and, yes, they realise it rains in Ireland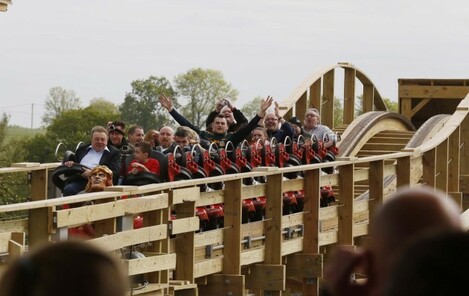 Source: Sasko Lazarov/Photocall Ireland
Before being ushered on to the rollercoaster, the people from Tayto Park explained that one of the most frequently asked questions they get with regards to the rollercoaster is, "Er, don't you realise it rains in Ireland?"
However, we were assured that there are wooden rollercoasters all over the world and that the Cú Chulainn rollercoasterwill be able to withstand Irish weather.
3. There were references to Cú Chulainn EVERYWHERE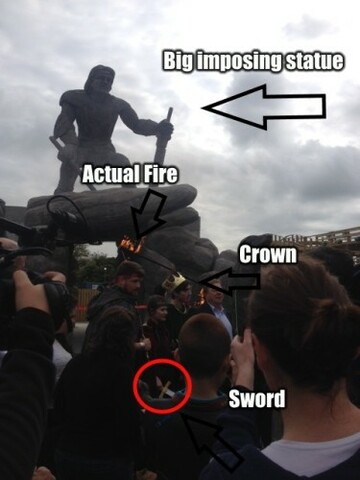 Source: DailyEdge.ie
References to Cú Chulainn could be seen all over the place — from the great hulking statue to these Irish wolfhounds.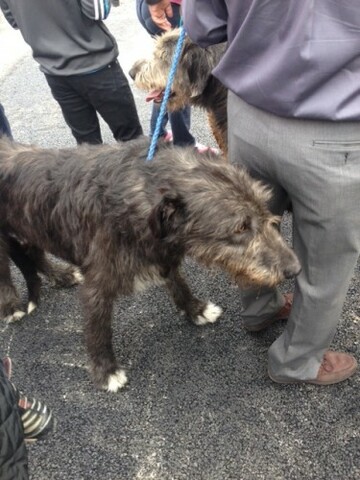 Source: DailyEdge.ie
<3
4. The rollercoaster itself is not for the faint of heart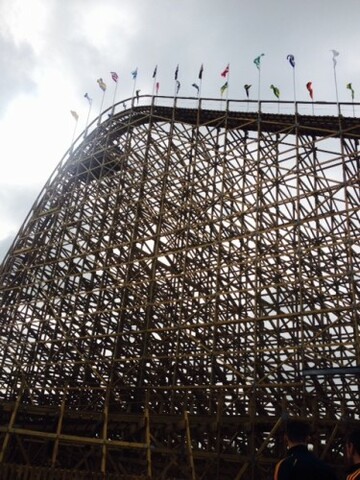 Source: DailyEdge.ie
After looking at the rollercoaster from afar, we immediately began to regret horsing into sausages before embarking on the ride.
Here are some stomach churning stats for you:
It reaches speeds of 100km per hour
The drop zone is 31 metres
At one point, you're looking down from a height of 32.05 metres 
*wees self*
5. And no amount of decent pop tunes will help ease the fear
As we waited in the queue to get on the rollercoaster, we heard the following tunes:
S Club 7 – Bring It All Back

Let it Go from Frozen
Whigfield – Saturday Night
All of which did little to assuage our fears.
6. We looked on as the rollercoaster embarked on its maiden voyage and it was horrifying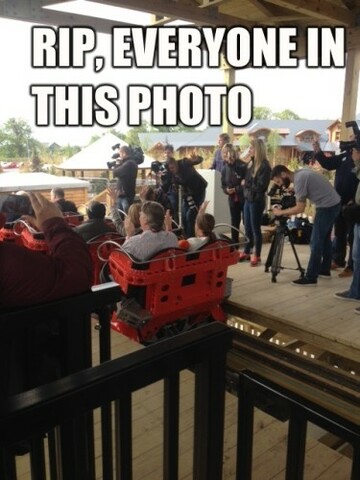 Source: DailyEdge.ie
We looked on in horror as the first group took off and silently bid farewell to them, certain that they would never return.
As they put their hands up in the air like mad yokes, you couldn't help but feel that they didn't know what horrible fate was in store for them.
So carefree, so naive.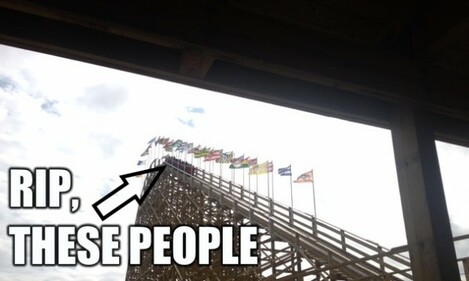 Source: DailyEdge.ie
7. But then it was over very quickly and we began to think, 'Oh, maybe it won't be so bad after all'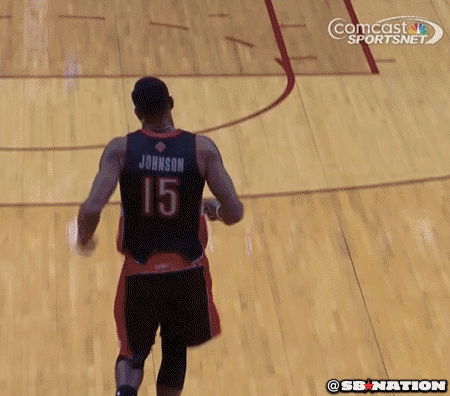 Source: Giphy
The ride, which accommodates 24 people each time, was over in what seemed like no time and nobody seemed overly traumatised.
"We can do this," we thought. "We'll be grand."
8. And so, we prepared to get in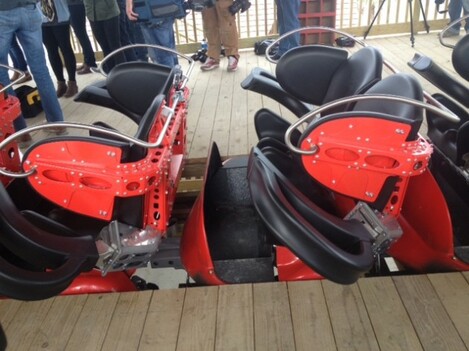 Source: DailyEdge.ie
Before getting in, ladies were warned about wearing especially dangly earrings, such is the speed. After leaving our bags/valuables on the ground, we hopped in and were promptly strapped in.
(Scaredy cats will be glad to know that you're very, very secure and feel very safe, even if it looks like the literal opposite from afar.)
9. AND THEN IT STARTED
And we were like…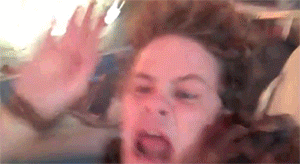 Here's what you need to know:
It goes very, very, very fast

Your life will flash before your eyes as you approach one especiallyheartstopping vertical drop
You're very much on your side at one point? Or maybe you're upside down? IT ALL HAPPENS SO FAST THAT IT'S IMPOSSIBLE TO TELL
You might find yourself screaming "HELP"
Your eyes get very leaky, so don't bother wearing mascara
10. When you get off, there's a part of you that's glad to have survived and another part that's immediately wishing you could do it again
Source: biyonce/Tumblr
A few quotes from people who tried it:
That was brilliant!
OH MY GOD.
Oh my God, I literally thought I was going to die.
Also: kids will love it. We witnessed kids who were there on a school tour absolutely losing their minds and just saying, "Oh my God" to each other after it was over.
(We also witnessed one boy asking a girl, "Why did you get interviewed?" in an accusatory tone.)
12. Even seasoned rollercoaster enthusiasts will love it
Source: Sasko Lazarov/Photocall Ireland
Several members of the European Coaster Club, a club devoted to trying out new rollercoasters, were in Ashbourne to try out the new attraction.
We spoke to Colin McWilliam, a member of the ECC and rollercoaster aficionado, and this was his verdict.
It's very good. There's a lot of direction changes. It's not the tallest rollercoaster in the world, but anyone can build a tall rollercoaster with a big drop — that's the simple bit. Keeping the ride entertaining after that is the important part and this changes direction every second or two seconds. It's fun. There's quite a lot of g-forces on there.
Does he reckon Irish people should make the trip to Co. Meath to try the Cú Chulainn Coaster?
Absolutely!
13. But really, we don't need to say anymore — this photo says it all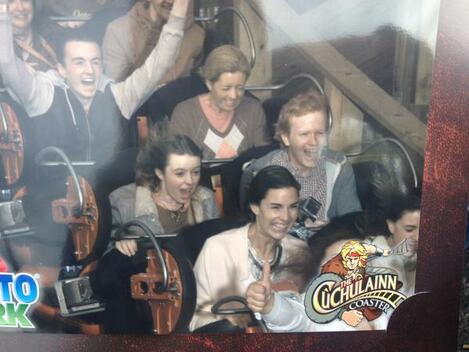 HELP Source: DailyEdge.ie
As Ronan Keating once said, "Life is a rollercoaster, you just gotta ride it".
Over and out.