TWO TEENAGE BOYS in Adelaide, Australia, queued for two hours to buy doughnuts from the first Krispy Kreme shop in the city, only to have them stolen at knifepoint as they put them in their car.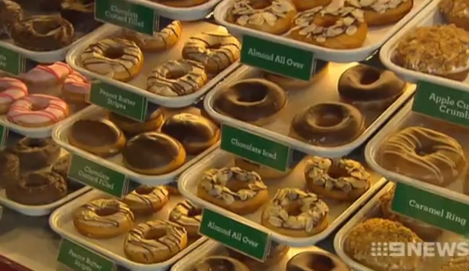 One of the 17-year-olds bought the doughnuts in order to celebrate his new apprenticeship with his family and new boss.
Just before 10pm on Wednesday, he and a friend parked nearby the shop as the drive through was closed. After spending two hours in the queue, the pair returned to the car with six boxes of the doughy goodness. The thief approached them demanding the doughnuts, but nothing else.
The boys told 7 News,
He was pretty much saying 'if you don't give me the doughnuts now I'm going to stab you'. It's pretty bad, you think he'd take the money or something, but he took the doughnuts.
Police hope to review security footage to identify the suspect, who is described as a Caucasian man aged 16 to 20, 165cm tall and wearing a black hoody and black tracksuit bottoms.
The newly opened Krispy Kreme is the first in the city, with some locals queuing outside for days before the official opening.
Store manager Mark Higginbottom said that he believes the robbery was an isolated incident, but extra security measures will be added in case. He wants to replace the boys' doughnuts, but they're too scared to return as of yet.
Source: 9NewsAdel/YouTube