THE INVITES TO Irish dignitaries and personalities are far and few between for the small get-together in Westminster Abbey on Friday.
According to the official British royal wedding guest list – reproduced at length on sites as far afield as China and the United Arab Emirates – there will be 1,900 at the church service to see William marry Kate Middleton.
Despite the long list, there are a few notable absences: the King of Tonga is there, but Barack and Michelle Obama are not, for example.
There will be a few faces among the crowd though who have an Irish link…
Amy Huberman - Even though rugby star husband Brian O'Driscoll won't be able to make the wedding, Huberman will be going because her name is officially written on the invitation as well as his. The Guardian yesterday quoted BoD, who has met William "a couple of times", as saying that "personal gratification takes second place" to his career and he will be in training on Friday for the following day's Leinster match. However, he added:
My wife is going on our behalf as we also felt there was an element of our representing Ireland as well.
In case you're interested, today's Evening Herald tips Amy to wear a Louise Kennedy creation.
Cardinal Sean Brady - The Catholic Primate of All Ireland has been ordered to the church before 9am to take his seat among other religious leaders. For his 'special' insights into the wedding ceremony, TheJournal.ie's very own columnist (Not) Cardinal Brady will be liveblogging the wedding on our site from 11am.
Gemma Billington – Nope, us neither, but the Irish Independent today claims that the Killarney-born artist got the nod as a close family friend of the Middletons, whom she lives near in England.
Shane Connolly – He's not exactly on the guest list but the Northern Irish man will have a hand in one of the main props on the wedding stage on Friday – he has designed all the floral displays. He's the man responsible for the "avenue of trees" that will line the aisle leading to the altar at Westminster: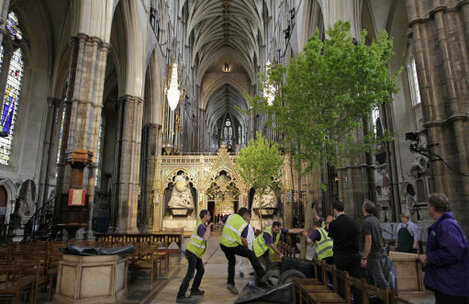 Pic: PA Images/Sang Tan
Hilary Weston – The Dublin-born style queen and her husband Galen Weston own Brown Thomas, B2 and Selfridges in London.
Philip Treacy – Clearly inspired by his headpiece for Camilla's wedding to Charles, Kate has asked Galway native Treacy to design a hat for her honeymoon.
Paul Costello – Not a guest either, but Irish designer Costello told the Irish Examiner yesterday that he had designed something that would be worn at the wedding. By whom, or whether it's a pair of socks or a frock, no-one knows.