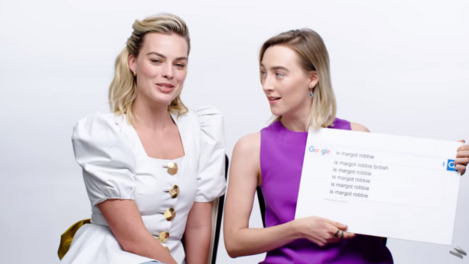 Source: Youtube
OPINIONS ABOUT HER accent aside, it's impossible to dislike Saoirse Ronan.
Over the years, she has proven that not only does she have a serious talent, but she also has a pretty good sense of humour too. In her latest movie, Mary Queen of Scots, she worked along Margot Robbie, who is also a well-established actress with a cracking sense of humour. So naturally, their entire press tour has been quite entertaining.
They've been spending so much time together, that when interviews begin, Margot Robbie's starting them off by saying, "Hi, I'm Saoirse Ronan", before Saoirse Ronan finishes the sentence by adding, "And I'm Margot Robbie." Here's a rundown of some of the best moments, in case you haven't been paying attention.
1. When Saoirse Ronan and Jimmy Fallon sang Fairytale of New York and were actually surprisingly good… 
Source: The Tonight Show Starring Jimmy Fallon/YouTube
Margot Robbie wasn't present for this one, because Saoirse and her went on The Tonight Show separately, but Saoirse Ronan and Jimmy Fallon really surprised us with their cover, which we had expected to be pretty shit. There's nothing else to add here really, just listen to it. 
2. When the gals went on WIRED's Youtube account and answered the internet's most searched questions about them. 
Saoirse confirmed that Margot, does indeed, have a pulse.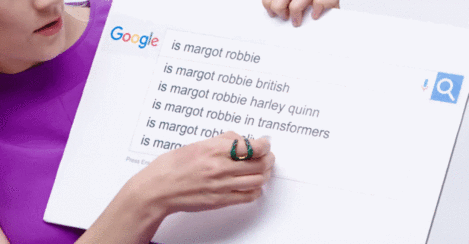 Then, Saoirse also demonstrated 'How to Saoirse Ronan.' 
Source: WIRED
All you've got to do, is just go like this: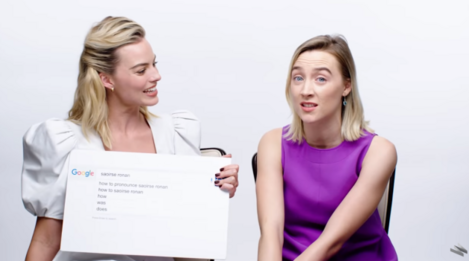 Source: WIRED
You get the gist of how this game worked. Over the course of the video, they revealed plenty of interesting facts like how Margot Robbie was really ice skating in a lot of I, Tonya and how Saoirse is pescatarian "60% of the time, all the time."
Source: WIRED/YouTube
3. When we learned that Saoirse is an expert on the movie Bridesmaids. 
Jimmy Fallon asked if Saoirse how much she liked Bridesmaids. She replied:
I've watched the movie hundreds of times. I'm playing it in my head right now. I'm not really here, I'm there. 
So, with that in mind, he decided to quiz her on the movie. 
Source: The Tonight Show Starring Jimmy Fallon/YouTube
There are few things in this world that are as pure as Saoirse Ronan's unbridled joy as she speaks about this film. 
4. When Saoirse played charades on with Anderson .Paak and Alessia Cara.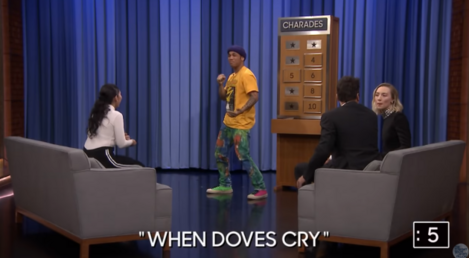 Source: Youtube
A Youtube video should not be this frustrating to watch.
Source: The Tonight Show Starring Jimmy Fallon/YouTube
5. When Margot Robbie appeared on Ellen and once again, told the story of how she met Ellen for the first time. 
Source: TheEllenShow/YouTube
Ellen began the story, which she wanted to tell really briefly.
I was on this exclusive island, this private island, very few people on it and they're [Margot and her husband Tom] on their honeymoon. Portia and I are there, we were there, Barack Obama happened to be there because he was writing his book. Portia and I were working out with Barack in the gym every single day, and Margot and Tom came in and he was wearing the shortest, baggiest – I mean it's one thing to wear short-shorts, but short and baggy? 
Margot added, "And nothing underneath." Ellen continued:
Well I didn't look. They came in to do yoga, and she's like "Are you wearing that?" and he's like "Who's gonna be here?"
Margot explained, "We didn't know how fancy this island was gonna be, we had no idea. It was quite a shock to walk in and see you, Portia and Barack Obama." Ellen gave a quick demonstration of some of the yoga positions that Tom did in his shorts in front of her, Portia and Obama. 
Source: Youtube
Margot added, "He was so upset afterwards that he threw the shorts out and it was laundry, so they washed them and returned them to [Ellen's room]." Poor Tom. Ellen laughed, "Yes, I got them and I said, 'I know whose shorts these are, they're not mine', and so he must be mortified."
For some bonus entertainment, Margot Robbie then showed off some photos of her gorgeous new rescue dog.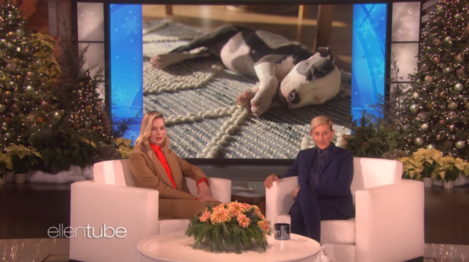 Source: Youtube
6. Then Margot challenged Saoirse Ronan to do an Australian accent, because she knows that Saoirse Ronan isn't great at an Australian accent. 
Before giving it a go, Saoirse said that Margot's trying to find her "achilles heel". To be honest, she did a pretty decent job either way. 
Source: The Tonight Show Starring Jimmy Fallon/YouTube
7. Margot also revealed that she and Saoirse had been kept apart for pretty much the entire filming of Mary Queen of Scots.
We get one scene together and it's like a huge, one scene, twelve minute scene. They kept us apart until that moment, so we never saw each other in character. We saw each other in rehearsals and we hung out before, but we never saw each other in shooting. She never saw me as Mary and I never saw her as Elizabeth. 
It all worked out really well, because in the story, neither of the characters had ever seen each other in real life until that point either, so as Margot says, it builds up to "a really climactic thing." 
Source: The Tonight Show Starring Jimmy Fallon/YouTube
DailyEdge is on Instagram!