Source: Journal Media Studio/YouTube
MEIK WIKING STUDIES the art of having a good time for a living – he's a happiness expert. He's CEO of the Happiness Research Institute and author of The Little Book of Hygge: Danish Secrets to Happy Living.
He's in Dublin to launch 'The Danish Experiment', a web-series created by Carlsberg which will follow four eclectic Irish personalities as they explore the Danish way of living, learning what makes them so different to their European counterparts.
There are a lot of similarities – you have the word 'craic' which is quite close to the Danish 'hygge' because they're both about hanging out with your mates and having a good time.
Carlsberg's series hopes to dive into what about the beer's home country is so unique – bringing Irish people a taste of what's so enjoyable about how the Danes tend to socialise, eat, get creative, entertain and even style their homes.
They'll also see why the Danes are leading the way in so many different spheres including interiors, fashion and dining, and how they somehow always emerge at the top of the World Happiness Index. And as Wiking explains, we're not really all that different from the Danes:
We might be Irish and Danish but we're first and foremost humans and we can see that the same things drive happiness and wellbeing across the world.
Hygge is just one of the success stories that has been spreading to Ireland – we've also seen an explosion in popularity for 'Danish-noir' TV, while the fashion world has adopted their clean lines and minimalism.
So, with so many success stories, how do Danes have life so sussed?
The series will see street artist Maser, stylist Jo Linehan, food trailblazer Kevin Powell and Kodaline bassist Jay Boland all discover what they can learn from Copenhagen to take to their creative careers back home.
They'll travel to Copenhagen for four days and be paired with a local creative, exploring how the Danes could influence their approach to interior design, art, music and food.
In the last few years, Ireland has increasingly looked to Scandinavia as a leader in interior design – something that is reflected with the explosion of affordable Danish stores across Ireland to the dominance of modernist style pioneered by Danish designers.
For stylist Jo Linehan, Denmark has been a significant influence for her work for years. The Danish interior style is "high quality, minimal and fluid" she says – adding that she looks to Nordic countries all the time for inspiration:
Their whole cosiness thing really speaks to Irish people because we have that cold climate so we do sometimes just want to come home and be super cosy and warm.
Linehan explains how much something like The Danish Experiment can have an impact for those seeking inspiration in their careers:
As a creative person you become very comfortable in what you do. This is an amazing opportunity to pull myself out of my comfort zone and collaborate with someone with a completely different take on things.
Interior design isn't the only realm where the Danes have been making waves however. Copenhagen alone has claim to 19 Michelin stars, awarded to 15 restaurants. It's a city in which restaurants like Noma are creating seasonal, 'super-focused' menus that only include say fish, or vegetables.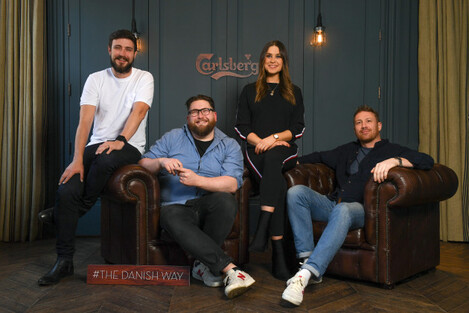 Source: Ramsey Cardy/SPORTSFILE
Surprisingly, 'food trailblazer' and chef Kevin Powell, says that Irish people are not that different in our approach to food. This Danish influence he says is visible in Irish restaurant kitchens who are "already taking on this provenance focus and producing really interesting food":
The Irish restaurant scene has been influenced by Scandinavian eating. We have lots of similarities in what we grow and produce and I think the idea of provenance is becoming a big thing for Irish people.
But the link to Copenhagen and Danish creativity is probably most strong for street artist Maser, who frequently travelled to the city to paint in his late teens and early twenties: "I'm curious to go back because I've been about ten times to paint. I learned a lot there that I think I brought back here."
Want to find out what makes Denmark one of the happiest places in the world? Keep an eye out for the first episode of The Danish Experiment, which will be unveiled on TheJournal on June 14th. Follow Carlsberg Ireland on Facebook and Instagram to tune in to the series and for behind-the-scenes edits . Enjoy Carlsberg sensibly, visit drinkaware.ie.