EVERY WEEKDAY MORNING, DailyEdge.ie rounds up the best of the day's celebrity dirt from the top to the very bottom.

Source: PA Wire/PA Images
Niall Horan issued a warning to fans on Twitter over the weekend
We all know Directioners struggled to keep their cool back in the day, but it doesn't sound like they're getting any better at it.
In a message to his fans on Saturday, Niall Horan had to warn everyone about their behaviour at his gigs, revealing that they've been on the verge of cancelling them in response to audience carry-on.
Guys you gotta start looking out for eachother at shows , that's two shows in a week we've nearly had to cancel .. I'm as excited to be there as you but ya gotta take care of yourselves in the audience .

— Niall Horan (@NiallOfficial) July 14, 2018
But here's the thing, it's not the first time he's had to fecking do it.
In a message only the previous day, Niall had to rip it out of himself in the hopes he'd get his message across, reminding fans that his music doesn't exactly lend itself to a mosh-put scenario.
And, you know, he has a point.
I mean have ya heard my album Hahahahah , it's not meant to look like a rave out there 😂😂😂

— Niall Horan (@NiallOfficial) July 14, 2018
Whether they'll listen is another thing, says you.
The Kardashians' former make-up artist wants everyone to know she wasn't fired
Word on the street recently suggested that Joyce Bonelli was no longer working for the Kardashian/Jenner family because she had been fired.
And Joyce isn't having it.
The make-up artist, who added fuel to the fire by recently posting a photo of herself wearing a dressing gown emblazoned with the words 'F*ck with me. I dare you' is now keen to quash the rumours.
Speaking to People, Joyce alluded to the idea that a personal rift had caused her to leave the glam squad after a decade, but she insisted she wasn't given the boot.
I've never been fired. When something personal happens, it's just a personal thing and I don't think it's anyone's business.
But people should know, too, that I wasn't fired and I love all of them and I'm proud of them, too. Who hasn't gotten in a fight with their girlfriends?"
Wait, what, an actual fight? We need more information, Joyce.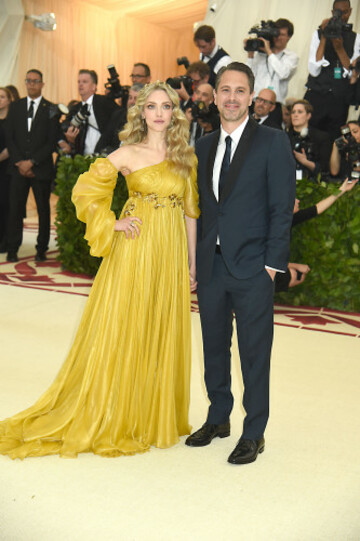 Source: SIPA USA/PA Images
Amanda Seyfried says her husband is a little jealous of her on-set reunion with Dominic Cooper

So for anyone who might not be in the know, Amanda Seyfried and Dominic Cooper used to be an item.
Between 2008 and 2010, the Mamma Mia stars had an on-again/ off-again relationship.
Source: PA Archive/PA Images
And then six years after Amanda and Dominic called it quits, Amanda met Thomas Sadoksi, married him in 2016 and gave birth to their daughter in 2017.
But according to Amanda, Thomas is a tiny bit uncomfortable at the prospect of his wife having to work alongside Dominic in the the Mamma Mia sequel.
And Amanda gets it.
I think he has the same kind of issues that I would have if we were hanging out with his ex-girlfriend from long ago. I think it's always like, 'I'm so in love with this person, so that person must be so in love with her too'.
In fact, she kind of here for it.
It's sweet. I'd rather he be jealous than completely fine with it. He's been great. He's very supportive and he loves this movie, and [he and Dominic] got along absolutely fine when we were shooting.
Fair enough.

And in the rest of the day's dirt…
DailyEdge is on Instagram!