#DO YOU KNOW WHO I AM?  Reese Witherspoon and her husband Jim Toth were pulled over on Friday in Atlanta and she wasn't happy about it.
Apparently the police suspected her husband of drunk driving. She became upset and refused to stay in the car, resulting in her getting arrested for disorderly conduct.
The Hollywood Reporter says she pulled the 'Do you know my name?' card out of the bag, and when the police officer said no, she wasn't impressed saying 'You're about to find out…'  She was probably right about that, in fairness.
She has since released an apologetic statement.
Out of respect for the ongoing legal situation, I cannot comment on everything that is being reported right now. But I do want to say, I clearly had one drink too many and I am deeply embarrassed about the things I said. It was definitely a scary situation and I was frightened for my husband, but that is no excuse. I was disrespectful to the officer who was just doing his job. I have nothing but respect for the police and I'm very sorry for my behavior.
MORTO.
#PAHHHHSTA In an interview with The Guardian over the weekend, actress and self styled lifestyle guru, Gwyneth Paltrow had something to say about how we speak.
Chris Pizzello/Invision/AP
Well, really she was talking about the British public, but on this matter we are united.  Her issue?  The way we say 'pasta'.
"I've lived in England for 10 years and the accent is the most beautiful in the world, except for how you pronounce pasta as pass-ta instead of pah-sta. I'm sort of joking when I say this but I really don't want my children speaking that way."
She's 'sort of joking' which basically means she's not joking at all.  Oh Gwyneth, you don't do yourself any favours, do you?
#HAYLOR The One Direction film, This is Us, is not out until the end of August, but the flurry of  anticipatory gossip is already in full flow.
According to the Daily Star, Harry Styles speaks about his relationship with Taylor Swift in the film, referring to it as 'a huge pain in the arse'.
It's also been reported (Heatworld) that the lads mentioned Taylor while joking around during their performance of 'Little Things in Newcastle last week.
We're not so sure, have a listen for yourself.

YouTube/FridayFeelingz
In other Harry news, The Sun tells us that his favourite backstage activity whilst on tour is what he calls a 'naturist segway' (The Sun).  Basically, he likes to roll around the place on a segway while naked.
We'd imagine there are lots of people who'd pay good money to see that.
#LEAVE JUSTIN BIEBER ALONE Poor, 'tormented' Justin Bieber has apparently been joined once again by Selena Gomez.
She reportedly travelled to Norway to see him last week, and he posted a photo of the two together on Instagram over the weekend but then immediately deleted it (TMZ).
Twitter/metrauhl
Mixed signals all over the shop lads!
And the rest of today's dirt…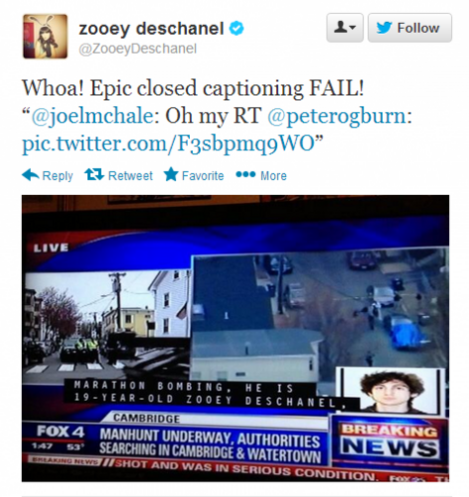 Twitter/ZooeyDeschanel