FOR SEVEN YEARS between 2007 and 2014, we had the gift that was the Saturdays bestowed upon us and we did not appreciate them as much as we should have.
Ok they were not Girls Aloud but we didn't want them to be. Funnily enough they did actually support Girls Aloud in 2008 on their 'Tangled Up' tour.
Source: Shirlaine Forrest
After Girls Aloud had left us with Out of Control in 2009, we needed something to fill that space in our lives. The Saturdays were the perfect antidote.
Another British-Irish girl group who were ready to give us singles about not caring about men and just being a bad-ass in general. Frankie, Mollie, Una, Vanessa and Rochelle were full of attitude and coordinated dance moves (so many coordinated dance moves) and it was everything we needed in our teenage years.
1. Up
While 'Up' wasn't their first single, it was much better than their first single. It had everything relevant in 2008 which most importantly was brightly coloured tights. It called out to the scene in all of us really.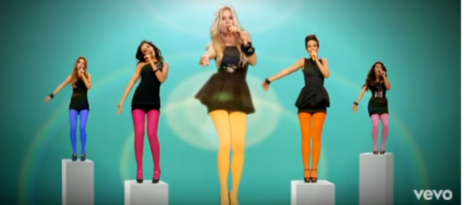 Source: Youtube
The song itself charted in Ireland at number 11 and was the first single from their first album 'Chasing Lights' to chart at all.
Source: TheSaturdaysVEVO/YouTube
2. Issues
Who among us didn't use 'Issues' to chart our own personal struggles with being ghosted? Tinder wasn't actually around when this song was released but it's still relevant today.
The lyrics were actually changed on the radio version from 'Don't know if I should slap you or kiss you' to 'Don't know if I should leave you or kiss you' presumably because the Saturdays didn't want to be responsible for a load of 14 years olds slapping their crushes.
We all got issues man.
Source: TheSaturdaysVEVO/YouTube
3. Just Can't Get Enough
A cover of Depeche Modes original for Comic Relief in 2009, it was the only single released for Comic Relief which didn't reach number 1 (it reached number 2). It did however, outsell the original which is something.
The video is a bit odd for a charity single with men in suits lusting after these girls doing chores in their knickers.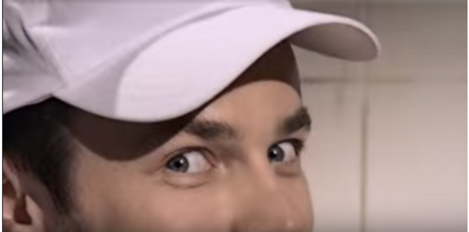 Source: Youtube
Tights were evidently very important to the group.
Source: Polydor/YouTube
4. Forever is Over
We move onto the Saturdays's second album 'Wordshaker'. 'Forever is Over' was a big success for the group in the UK but not so much here. In the never-ending supply of break up songs, it's still good but the video really sells it. Also you just don't recognise Frankie in this as she has long hair. It messes with your mind.
That deletion of the 'L' is cold man.
Iconic symbolism.
Source: TheSaturdaysVEVO/YouTube
5. Ego
Here it is, the crowning glory of the entire Saturdays discography in my eyes. Ego was the song you put on when your best mate shifted the guy she knew you liked or when your crush who didn't know they were your crush had the utter NERVE to look at someone other than you.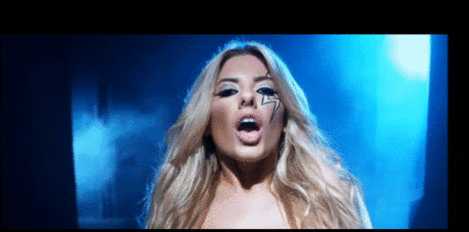 I cannot count the number of occasions I've wanted to tell someone to 'have a sit down with you ego' which honestly sounds like something your mam would say when you'd done something wrong. A truly iconic song for 15 year old us.
Source: TheSaturdaysVEVO/YouTube
6. Higher
Album 3 'Headlines' gave us 'Higher' and more importantly gave us Flo Rida giving us a lesson in how to pronounce 'Rochelle'. Oddly this song only charted at number 11 in Ireland despite this epic piece of coordination.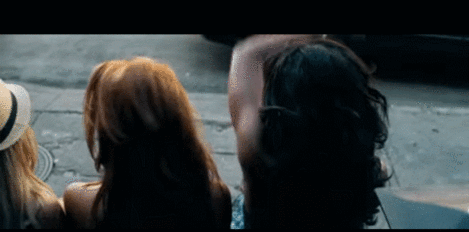 For shame Ireland.
Source: TheSaturdaysVEVO/YouTube
7. Missing You
A sneaky song that evaded a lot of people's attention but did chart at number 6 despite the lyrics being slightly psychotic.
I miss hurting you 'til you cry
I miss watching you as you try
Try not to end up in tears
Begging to get back together
Moving on.
Source: TheSaturdaysVEVO/YouTube
8. All Fired Up
The Saturday's fourth album 'On Your Radar' gave us the true gift that was 'All Fired Up. It was their move into club bangers and they made the transition quite beautifully with such lyrics like 'We're all animal, get your claws out' and a subtle name drop of their album in aswell. A class act.
Source: TheSaturdaysVEVO/YouTube
9. 30 Days
Their fifth and final studio album 'Living for the Weekend' continued on in a similar vein with 30 Days trying to hit that pop-club vibe. While not as catchy as 'All Fired Up', 30 Days did give us Frankie's reaction to dad dancing.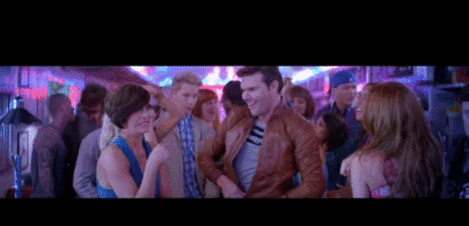 We are all Frankie.
Source: TheSaturdaysVEVO/YouTube
10. What About Us
And here it is, the Saturday's only number 1 in the UK. It was a total tune as well even though it did feature Sean Paul (I'm sorry). Frankly, the Saturdays had been songs (cough EGO cough) that deserved to be number 1 but at least they got one in the end. IT was the least they deserved really.
Source: TheSaturdaysVEVO/YouTube
Long live the Saturdays and their back catalogue of bangers. We salute you.
DailyEdge is on Instagram!