IT'S ALWAYS FASCINATING to hear how your friends celebrate Christmas and compare and contrast to your own. But what about the traditions of those who aren't Irish? Three non-Irish gals tell us how they celebrate Christmas.
1. Laureline from Paris, France
works for a Tech company in Dublin
Laureline's family spend the afternoon of the 24th cooking with each other. Laughing at how her own Frenchness as she begins to describe dinner Laureline says:
We start with champagne – so cliche!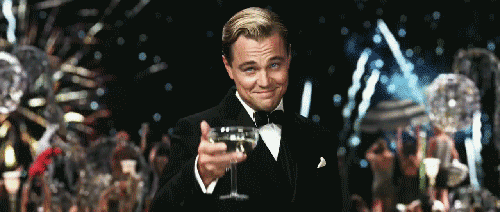 Source: Warner Bros
Mais bien sûr!
France is famous for its delicacies, so it's no surprise to hear a mouth-watering array of food is on the menu. 
No set dinner – we don't eat turkey in France – some seafoods like scallops and oysters, some really nice fish like salmon and then do a dish with some truffle as my Grandmother has some in her garden. And then some foie gras and poultry.
And dessert? 
A massive cheese platter – cliche again! Last year my mum did a platter with 24 different types of cheese! It took us a week to eat. And then some kind of cake aswell.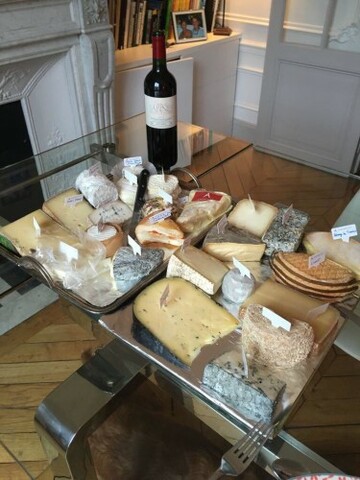 Source: Claire Woods
We have lunch on the 25th. No mass, my Grandmother goes but she's the only one. It's fine I'll burn in hell. On the 25th we usually watch a bunch of movies like old Star Wars movies or Indiana Jones. Classic ones.
Since becoming an adult, presents from parents are experience based: 
Now my mum invites us to the opera or the ballet the day before, which is really cool. That's what we do instead of a present. 
2. Mai from Menden, Germany
Tech worker living in Dublin
Mai caveats our chats by explaining that her parents are practising Buddhists so they don't follow the Christian holiday anymore, explaining:
We still have Christmas now but there's no presents.  
A non-consumerist Christmas – Imagine! 
Source: NBC
When they were younger, they followed the standard format:
My parents are immigrants so as children we had a traditional German Christmas, so definitely we'd have a Christmas tree in living room and lights set up in the window and stars on the window, so everything is prettily light up.  
The Christmas tradition of having an evergreen tree in our living rooms gained popularity in Germany in the late 19th century and spread. Originally, the trees were decorated with candles, before that fire-hazard of a convention was replaced with electric lights.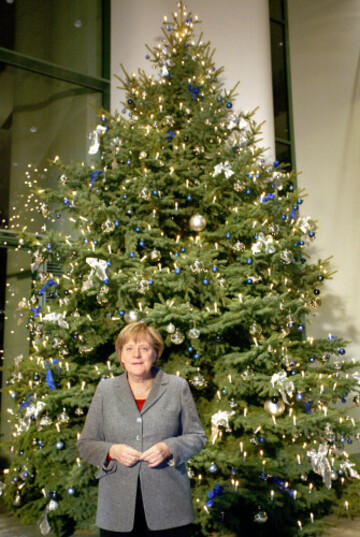 Source: DPA/PA Images
Mai says that the presents would be placed under the tree and, similar to France, Christmas eve was the big day as that was when everyone opens up their presents.
And what about food?
So the 24th and 25th is about having a nice dinner at home. We'd have a homemade dinner something Vietnamese, or a Vietnamese version of Raclette or Fondou.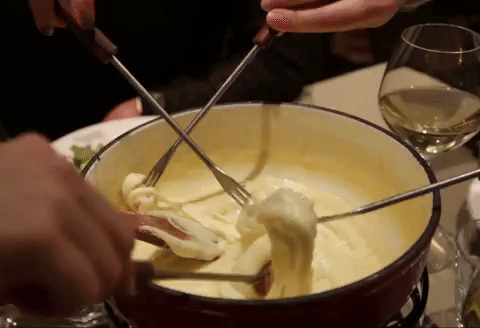 Source: Giphy
3. Marta from Krakow, Poland
 Postgraduate Student in London
Marta says that Poland is still very much Catholic but that only her Mum is still practising: 
but we still have a reading of the bible paragraph…On Christmas day we visit the cemetery to visit relatives and put decorations and candles on the grave.  
Christmas Eve is bigger deal than Christmas Day in Poland.
When we were kids, that was the day that we decorated the Christmas tree, which compared to the U.K and Ireland is quite late. Now we do it a bit earlier because there's so much to do during Christmas Eve. It's unusual for me in London to see decorations and lights everywhere from November.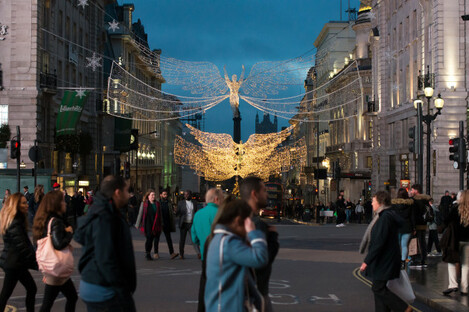 Source: Alberto Pezzali
What does Christmas Eve involve then?
We do the baking, preparing the food. My family usually starts early: at 4pm we start eating. That's the core of Christmas, so after that we do singing..My sister plays the piano and we gather around and we sing traditional Polish carols and songs.      
That is seriously wholesome! 
Source: giphy
Later on the presents. We have a tradition of everyone saying what they got and whether they are happy with it. After presents, you have sweets – baked the pies, traditional poppy seed cake and apple pie. dried fruit compote, which is disgusting and personally I hate it, (but that's the tradition), and gingerbread cookies! 
Food is a very traditional, with religion dictating somewhat to what can be eaten.
We're meant to do a fast so don't usually eat breakfast and eat a traditional lunch of potatoes and herrings. During Christmas Eve we don't eat meat. 
There's a tradition of having twelve dishes but we never do that cause it's annoying. We eat only fish – herring or carp – mostly fried. Then Saurekraut (a fermented cabbage) and cabbage, cooked slowly for hours and with added mushrooms. Normally you'd add meat, but we don't since Christmas Eve is a fasting day. Then sometimes also pierogi [similar to dumplings] with sauerkraut and mushrooms – a very Polish thing!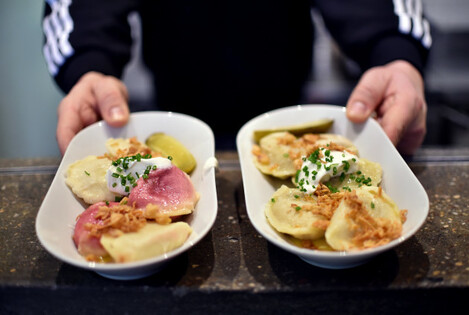 Source: DPA/PA Images
The key Polish dish on Christmas is red borscht soup with uszka
Urzka literally means ears – weird, I know – and it's sort of little dumplings with mushroom filling. It's really crucial!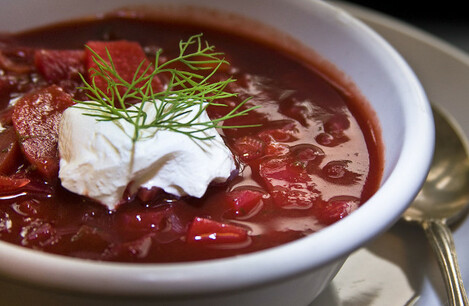 Source: Shutterstock
Another tradition is very virtuous:
Another tradition is having one extra seat for a stranger, so the rule is that if there is someone who is hungry or who doesn't have anywhere to go for Christmas that they can knock on your door and eat with the family. 
DailyEdge is on Instagram!