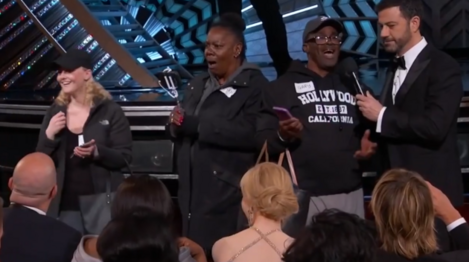 Source: RTÉ 2fm
REMEMBER WHEN Jimmy Kimmel surprised a bus load of Hollywood tourists by parading them through the Oscars ceremony?
Well, two Carlow natives were among the throng – Aer Lingus flight attendant Lisa Lucas and her dad, Tom. Here they are all agog: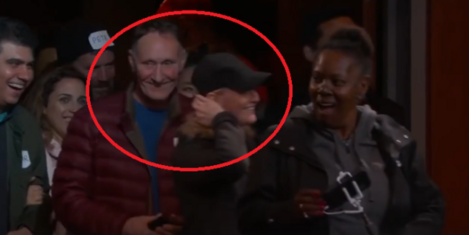 Source: RTÉ 2fm
Here's Tom shaking hands with Ryan Gosling, who he calls "a proper gentleman":
Source: RTE 2fm
Eh, how did that happen?
Lisa happened to be part of the cabin crew on RTÉ presenter Stephen Byrne's flight home from LA, and shared their story with him when they touched down in Dublin.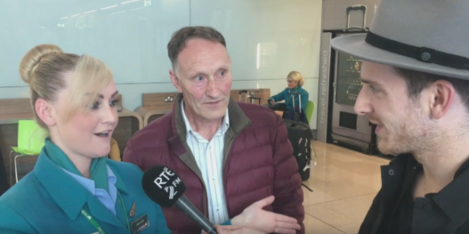 Source: RTÉ 2fm
She said she brought her dad along with her on her three-day layover in the city, where they did a bit of sightseeing on a hop on/hop off bus tour.
According to Lisa, the group was initially told they were doing a bit of "promotional work" on the Walk of Fame for Starline, the tour company:
They did a tour of  with us for 45 minutes, and then we were told that we were going backstage at the Oscars, just to see gowns and jewellery, things like that. The next thing is they were like "1, 2, 3″ and we walk in… We were just like "…What?"
They had a great time hobnobbing, even if Tom wasn't entirely sure who Jennifer Aniston was:
https://www.facebook.com/2fmofficial/videos/1561911453822364/
Can't see the video? Click here.
Tom revealed it still hadn't "kicked in" that he'd walked among the most famous people in the world, but Lisa is still thinking about what she was wearing at the time:
Oh my god… peaked hat, ripped jeans, and a North Face fleece, seriously. And they're all in these amazing gowns… I thought I would just pull [the hat] down over my face. Mortified.
What an experience. Don't forget us now with all your Hollywood friends, lads!
DailyEdge is on Snapchat! Tap the button below to add!