DailyEdge.ie rounds up the TV shows that you'll be tweeting about tonight and talking about tomorrow.
First Dates Ireland (RTÉ Two, 9.30pm)
Mateo introduces the new love of his life, his baby daughter, to the restaurant staff, which probably also goes against some kind of health and safety regulation. Elsewhere, Galway huntsman Paul unleashes his inner Bear Grylls on Polish beauty Dominika from Longford, who is looking to settle down with a wild man. Also, news-obsessed Dylan from Cork is hooked up with dog-loving student nurse Katie from Tipperary, Cork woman Maria shows off her impressive body art to Dublin performance artist Sara, and ex-publican Orla from Dundalk spends time behind the bar with Ethan before her date with Dublin chef Daniel.
How To Be Good With Money (RTÉ One, 8.30pm)
This will probably be worth a watch if you've found yourself asking "how is still January?" more than once this week. Eoin McGee helps nurse and single mother Michele Radix from Sandyford in Dublin, who has found herself carrying the burden of debt, both financially and emotionally.
The Secret Life of 4 Year Olds (Channel 4, 8.00pm)
The fly-on-the-playroom wall documentary focuses on relationships, revealing how the four-year-olds form friendships, rivalries and romances with each other. Arthur and Iris decide to be boyfriend and girlfriend – only for Frankie to also show an interest in Iris. Best friends Na'Shae and Penny fall out over a hair bobble, and a five-metre climbing wall arrives at the nursery. Is anyone brave enough to make it all the way to the top?

Everyone's talking about: Riverdale
Spoilers ahead for episode 'No Exit'!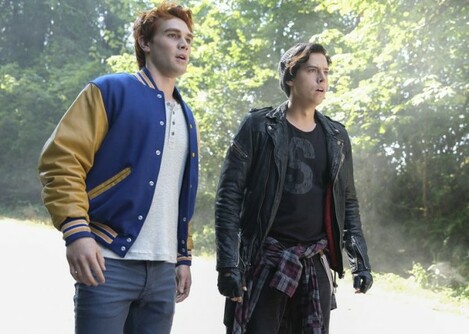 Source: Netflix
Yeah, people are a bit gobsmacked over that mid-season premiere, as one character's apparent death is seen as "game-changing" for the show.
After surviving pretty much everything else that came his way, it seems Archie met his grisly end … Via a grizzly bear? How is anyone still watching this show?
Guess you'll just have to keep hate-watching to find out, huh?

Or flick over for…
Hunted (Channel 4, 9.00pm) A televised game of cat-and-mouse, anyone?
Brigid and Eamonn (RTÉ Two, 10.30pm) When Eamon is barred from the pub, he decides to cook up his own home brew based on an old family recipe.
Homefront (TV3, 9.00pm) Jason Statham is a baddie-turned-goodie. But is he? Really?!
DailyEdge is on Instagram!