GIVE A MAN a fish and you'll feed him for a day. Give a fish a sporting tournament to predict and he'll do EXACTLY THAT. From Paul the Octopus to  Cabeção the Turtle, no World Cup would be complete without an animal prophet predicting the results of every match.
In keeping with this tradition, TV3′s Late Lunch Live has enlisted the services of a goldfish named "Late Lunch Lionel" to predict the outcome of 28 matches during the World Cup.
No, really.
The fish, named after Argentinian superstar Lionel Messi, will make his debut on today's programme and will attempt to predict the result of tonight's opener between Brazil and Croatia using a complex algorithm he devised in his tank. (Just kidding! He's a fish.)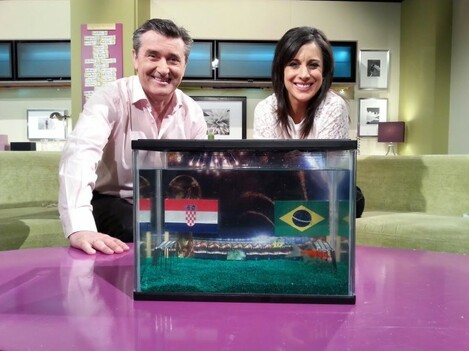 Source: TV3
As you can see from this picture, flags are erected on either side of Lionel's tank and Lionel swims under the flag of whichever team he believes is going to win. Just call him the Nate Silver of the sea.
Speaking ahead of Lionel's first outing, presenter Lucy Kennedy said, "We have unwavering faith in our tipster Lionel. We're all waiting with 'baited' breath!"
Bookmaker Paddy Power has come on board as well, offering a €100 stake for each of Lionel's picks with all proceeds going to Crumlin Children's Hospital.
Come on, Lionel!