Source: RollingNews.ie
LAST NIGHT, U2 performed the first of four sold out gigs in Dublin's 3Arena as part of their Innocence + Experience tour and we at DailyEdge.iewere among those lucky enough to be there.
There were so many questions. Would it live up to expectations? Would I become a diehard U2 fan afterwards? Would Bono pull a Taylor Swift and welcome Irish celebrities like Anne Doyle and John Giles to the stage?
Here's what I learned.
1. U2 fans don't wear fun costumes, really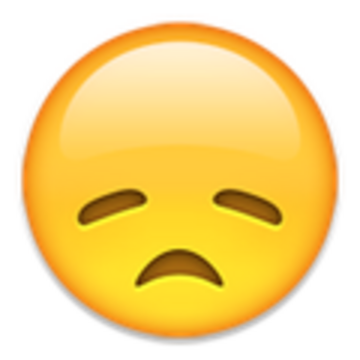 Source: emojipedia
While, say, Taylor Swift fans might go all out and dress up as foxes when going to see her live in concert, U2 fans are a more sedate bunch.
It was mostly just people in jeans. Ah well.
2. Guggi is still best pals with the lads
Guggi, artist and longtime friend of U2, was spied getting his photograph taken outside the 3Arena last night and earned a shout out from Bono on stage.
Good man yourself, Guggi.
3.  The U2 pre-show playlist is filled with ABSOLUTE BANGERS
Before the lads appear on stage, the audience is treated to an expertly curated playlist of absolute bangers to get the adrenaline pumping. We're talking Hot Stuff, Under Pressure and Electric Avenue.
Even if the gig had been a crock of shite, the pre-show playlist would have ensured the night wasn't a total waste.
4. But when People Have The Power starts playing, that's when you know it's ~*~ time ~*~
Source: pattismithVEVO/YouTube
Yes, U2 use Patti Smith's People Have The Power as their entry music on the Innocence + Experience tour.
While your writer wasn't acquainted with this tradition, the rest of the 3Arena must have been as the song elicited whoops, hollers and punches in the air.
5. When Bono finally emerges on stage, it's like he's been beamed down from heaven or something
And you'll feel compelled to take a photo. You won't be able to help yourself.
6. The show opens with three bangers
The Miracle (Of Joey Ramone), Electric Co. and Vertigo.
The latter in particular has you moshing before you know where you are. "Uno, dos, tres, catorce!"
7. You can take the lads out of Dublin…
One of the first remarks Bono made to the audience last night was, "We've spent the last nine months travelling the world trying to explain what the North side of Dublin was. But tonight we don't need to, because we're here."
Warning: this might cause your internal patriotism thermometer to explode.
8. In fact, the show contains several nods to Ireland
The stunning backdrop featured illustrations of 1970s Dublin.
http://vine.co/v/izwpzO6TTOj
And the show also paid tribute to the victims of the Dublin and Monaghan bombings of 1974 following a stirring rendition of Sunday Bloody Sunday.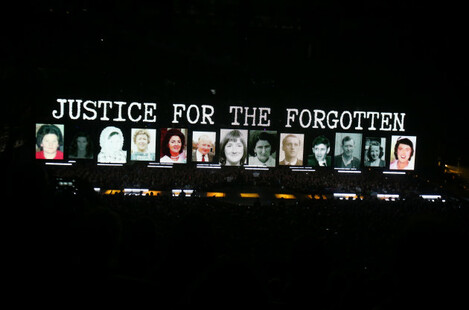 Source: RollingNews.ie
That performance of Sunday Bloody Sunday here.
9. There are points in the show where Bono appears to be inside the screen and it's pretty mind-bending
"Where is Bono? Is that a hologram of Bono? How is he in the screen? And how did he get up that high?"
- Us
11. During intermission, the phrase UNEXPECTED ITEM IN BAGGING AREA was beamed on a big screen
Alongside other profound phrases like "Talk To Strangers" and "Everything You Know Is Wrong".
Still raging that I didn't get a photo, tbh.
12. We have a new idol and her name is "Josie From California"
During Mysterious Ways, Bono plucked a woman from the crowd and invited her to dance on stage.
While most of us would lose our bloody lives at the thought of having to "move in mysterious ways" on stage with Bono, this woman was as cool as a cucumber about the whole thing and danced like she was just in her bedroom or whatever. No nerves, no nothing.
Her name? "Josie from California." We salute you, Josie From California.
13. Although not everyone approved…
Hopefully Mary From Ballina gets pulled up on stage tonight.
14. This dangling lightbulb is supposed to represent innocence and Bono's childhood…
But we spent a large proportion of the show worrying that it might fall and smash.
15. The Edge isn't one for chatting
But he did whisper a message in Bono's ear at one point.
Edge would like to thank Fr. Crosbie for use of the hall tonight.
BE STILL OUR BEATING HEARTS.
16. The band took a moment to pay tribute to the victims of last week's attacks in Paris
Bono took a moment to utter the immortal words, "Liberté, egalité, fraternité" and blew "a big French kiss" to Paris.
He also hung a French tricolour on the drum kit.
Simple, touching, perfect.
17. They played One!!!
Earlier this year, we caught wind that U2 were not playing One on their latest tour. A travesty!
But fortunately, the song has been put back on the setlist and last night, thousands of Irish fans belted it out in unison in the 3Arena.
And let us tell you, there's nothing more heartwarming than roaring "Love is a temple!" with your fellow countrymen.
18. Irish fans will never let an opportunity to chant "Olé, Olé, Olé" pass them by
http://vine.co/v/izdKjbtHpiQ
Confession: your writer found herself starting to sing "We're all part of Jackie's Army, we're all off to win the league" before remembering she was at a U2 concert.
19. Not to state the bleeding obvious, but Bono is a total rock star
Irish people have a tendency to be hard on Bono. (See: all the 'Bono is a pox' graffiti around the city centre.)
But last night he had the audience in the palm of his hand and reminded everyone of what a total rock star he is. The killer voice, the boundless energy, the ability to spray water from his mouth — yep, he's still got it.
20. In short, seeing U2 is enough to turn anyone into a sap
It's pretty special to witness thousands of people singing Pride (In The Name of Love), With Or Without You and Beautiful Day at the top of their lungs. And once you do, it's hard to be cynical about U2.
After all, how many acts can make Irish men throw shapes without being self-conscious? Not many.
And for that reason alone, U2 are a great bunch of lads.
In conclusion? If you're seeing U2 over the next three nights, you're in for a wonderful treat. Brace yourselves.