HOW MANY OF you are currently suffering with extreme umbrella rage?
You're not alone. And if you gave up and shoved your useless rain protector in a bin this morning, you're even less alone.
Here are the stages of giving up on your umbrella…
Good intentions
You splashed out €25 on that swanky umbrella and it promised you the sun, moon and stars.
You'll be damned if you're going to forget it.
Source: Shutterstock.com
Rage
You forgot it. Of course you did.
Despite giving your self a pep talk about bringing it with you, you will inevitably forget it/realise that you've lost it/realise that some louser stole it on you.
Source: Audrey Un Riz/Flickr
Giving in
You buy another one. Of course you do.
Source: journal-emer
Other people rage
Other people + umbrellas = motive for homicide.

True Grit
Some people battle on, making the most of what they've got.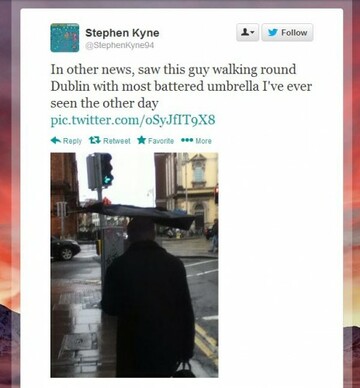 True rage
But sometimes, you just have to give in…
Source: Jon Jordan/Flickr
Acceptance
And say goodbye to an old friend…
Mourning
Godspeed, umbrella friends